Finding a good cricket movie to stream can be an arduous task with only a handful of films succeeding in displaying great cricketing action on the screen. Here we have collected the best Bollywood cricket movies that you can watch right now on digital streaming services like Netflix, Amazon Prime and more. These movies are packed with emotions and motivational stories that will uplift your spirits.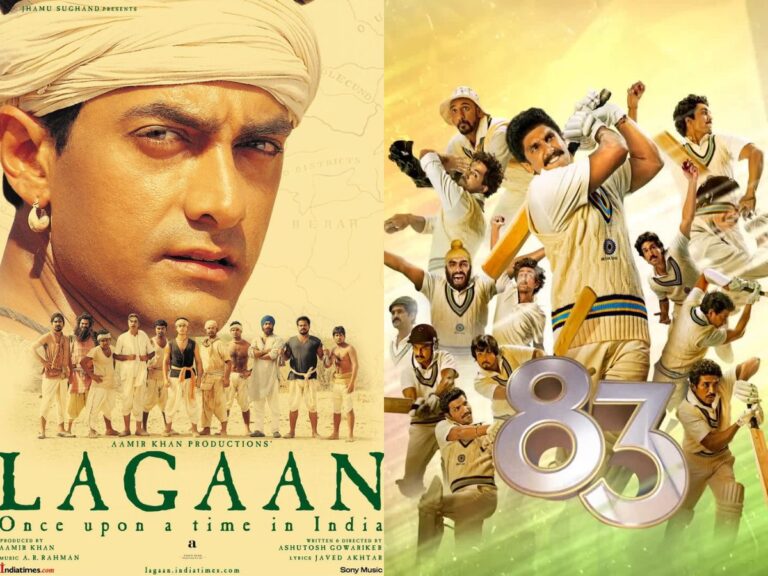 10 Best Bollywood Cricket Movies to Watch
1- MS Dhoni: The Untold Story
Based on the real-life of former Indian captain MS Dhoni, this cricket movie is loved by everyone for its faithful portrayal of Dhoni's life and his journey from Ranchi to the World Cup. Sushant Singh Rajput plays the titular role while Kiara Advani and Disha Patani also make significant appearances. It is one of the best Bollywood cricket movies to stream on Hotstar.
2- 83
Another movie inspired by real events that we really love and adore is Ranveer Singh's 83. The film is about the epic victory of the Indian cricket team in the 1983 World Cup. No one gave the Indian side any chance but the team led by Kapil Dev had the belief to chase their dreams. Easily, a cricket movie that will leave a lasting impact on you. It's streaming on Netflix India.
3- Iqbal
Shreyas Talpade plays the role of a mute aspiring bowler in this cricket movie. He learns the skill to represent India at the international level from a rugged player and coach played by Naseeruddin Shah. This is one of the best Bollywood cricket movies to inspire and motivate you. It is streaming on ZEE5 right now.
4- Lagaan
A cricket movie that was nominated for the Academy Award, Lagaan has become a cult classic over time. In fact, it also serves as a movie to judge the standard of other Bollywood cricket movies. It stars Aamir Khan as a rebellious Indian in British Raj who challenges the colonisers to play a cricket match in order to not pay the taxes on crops. This is available on Netflix.
5- Jersey
Jersey starring Shahid Kapoor and Mrunal Thakur is a highly underrated cricket film that we totally recommend. Even though the movie is a remake it still hits hard with its storyline that brings up a lot of emotions. The film follows a father who tries to make his place in the Indian cricket team in his 30s. You can stream it on Netflix.
6- Shabaash Mithu
This Taapsee Pannu starter follows the journey of India's greatest female cricketer ever. It's a biopic based on former Indian women's cricket team captain Mithali Raj. The movie is a must-watch for aspiring female cricketers. It definitely deserved a place in this list of best Bollywood cricket movies due to its fresh concept that focused on women's cricket. This movie is also available on Netflix.
7- 22 Yards
Till now we have listed only those cricket movies which traced the life of an aspiring cricketer. However, this cricket film is quite different as it focuses on a sports agent who faces controversy in his life and places his hopes on an upcoming cricketing talent to revive his career. You can watch it on Amazon Prime Video and MX Player.
8- Kaun Pravin Tambe?
Shreyas Talpade feature in this biopic as Pravin Tambe, a cricket who made his debut in his mid-30s in the Indian Premier League. Pravin Tambe's will to play at a bigger level is something that we admire about him. Talpade has breathed life into this inspiring story with his phenomenal performance. This is definitely among the best Bollywood cricket movies of all time. You can stream it on Disney+ Hotstar.
9- Azhar
Azhar was a controversial movie that depicted the life of former Indian captain Mohammed Azharuddin. The film stars Emraan Hashmi in the titular role. It traces how Azhar became the captain of the Indian cricket team and his involvement in a fixing scandal that made the whole nation go against him. It's a hard-hitting cricket movie to stream on Apple TV.
10- Sachin: A Billion Dreams
Last but not least on this list of best Bollywood cricket movies is Sachin: A Billion Dreams. The movie is a footage film that shows Sachin Tendulkar recounting his journey of becoming the greatest ever cricketer in the world with the help of archival footage, re-enactments and clips of his friends, teammates, family and peers.