Nowadays, Bollywood has turned to serious crime dramas and new-gen adventure and sci-fi sagas for the hit formula. We all miss the good old days when Bollywood comedy movies like Dhamaal, Hera Pheri and Dhol used to rule our hearts. You may have watched many of the Bollywood comedy movies listed here already, but you know what it doesn't hurt to relive the magical moments with these films.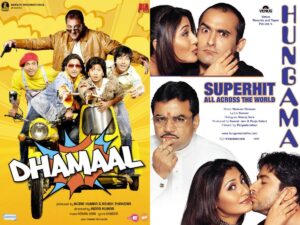 33 Best Bollywood Comedy Movies to Watch Right Now:
1- 3 Idiots
For a long time, 3 Idiots was the highest-rated Indian comedy movie ever on IMDb for all the right reasons. The film follows the adventures of three friends during their college days. Aamir Khan, R Madhavan and Sharman Joshi are brilliant in this comedy film.
2- Dhol
Perhaps one of the most underrated Bollywood comedy movies ever, Dhol is a laughter riot. It follows four unemployed friends who get tangled in a mystery while pursuing a love interest that can make them millionaires overnight.
3- Hera Pheri
The classic Bollywood comedy movie is inspired by a Malayalam comedy film. It follows three men who devise a fraud plan to loot money from a rich businessman. Akshay Kumar, Suniel Shetty and Paresh Rawal have done a fantastic job in one of the best Bollywood comedy movies ever.
4- Phir Hera Pheri
The sequel to Hera Pheri is equally as brilliant as the original film. It follows the misadventures of Raju, Shyam and Babu Bhaiya as they get entangled in problems after losing their whole fortune.
5- Dhamaal
Riteish Deshmukh, Arshad Warsi, Jaaved Jaffrey and Ashish Chaudhary star in this famous Bollywood comedy film that follows four friends who go after a treasure which was revealed to them by a dying criminal.
6- Hulchul
Akshaye Khanna, Kareena Kapoor, Suniel Shetty and more prominent stars feature in this Bollywood comedy that follows two people from rival families who fall in love.
7- Bhagam Bhag
Akshay Kumar is a gem when it comes to acting in the best Bollywood comedy movies. He champions this hilarious Hindi film with Paresh Rawal and Govinda. It follows a theatre group which gets an opportunity to perform in London.
8- Hungama
A hilarious movie in which identities often get confused. It follows a millionaire businessman, an electric shop owner and a common man who gets involved in a hilarious situation. Definitely one of those Bollywood comedy movies that you can't miss out on.
9- De Dana Dan
Even though the movie received negative reviews, it is, in reality, a great Bollywood comedy film. The trio of Akshay Kumar, Suniel Shetty and Paresh Rawal reunited for this comedy flick that gets too messy but stays too hilarious.
10- Chup Chup Ke
A debt-ridden man, Jeetu, who wanted to commit suicide, was saved by a fisherman and sold to a moneylender. Jeetu then acts as a mute and deaf to escape all the work and somehow find ways to help his family.
11- Golmaal
This Bollywood comedy movie is turned into a franchise which has more parts planned in future. However, we highly recommend watching this original film that follows four runaway crooks who take shelter in the house of a blind husband and wife.
12- One Two Three
Another underrated Bollywood comedy flick that we believe you should watch right now. Chaos ensues when three strangers with the same and different occupations are involved in the same situation.
13- Awara Paagal Deewana
A dentist's life gets turned upside down when he gets involved in a gang war. It's one of the best Bollywood comedy movies featuring the trio of Akshay Kumar, Suniel Shetty and Paresh Rawal.
14- Deewane Huye Paagal
A girl flees from her hometown after witnessing a murder. The person who loves her follows her and enlists the help of a criminal who also ends up falling for the girl. The situation gets messier when it is revealed that there are many suitors for the girl.
15- Masti
Three friends who are in unhappy marriages decide to break away by forming extramarital affairs. However, they end up becoming suspects in a murder. It's one of the best Bollywood comedy movies to watch right now despite it being almost two decades older.
16- Welcome
Two gangsters trying to find a family that does not have a criminal track record for marrying off their sister are involved in a hilarious situation with the man who falls in love with them.
17- Malamaal Weekly
Lilaram, a lottery ticket vendor, learns that one lottery that he sold has hit the jackpot. He finds out that the man who purchased the ticket has died and decides to cover up the murder to get all the money.
18- No Entry
Salman Khan, Anil Kapoor and Fardeen Khan feature in this Bollywood comedy movie that follows the tale of a faithful husband who is turned into an unfaithful guy by one of his friends.
19- All the Best: Fun Begins
One of the best Bollywood comedy movies that remains unknown despite being a fun ride. It follows a person whose life changes drastically when his NRI brother makes an appearance.
20- 36 China Town
Another hilarious movie that is highly underrated, 36 China Town is a must-watch for the comedy lovers. Inspector Karan is investigating a murder in China Town, but the mystery gets deeper when he realises that all his suspects don't have an alibi.
21- Bhool Bhulaiyaa
Akshay Kumar is back on this of the best Bollywood comedy movies. Bhool Bhulaiyaa is a pioneer in the world of horror-comedy movies in India. It follows a psychologist who solves a case of a ghost taking over the body of his friend's wife.
22- Go Goa Gone
India's first and only zombie-comedy film makes us question why Bollywood has not expanded on this interesting genre. A zombie outbreak in Goa puts the life of three friends in danger.
23- Khatta Meetha
This list of best Bollywood comedy movies is rightfully filled with films featuring Akshay Kumar. He is the best actor, without a doubt, in comedy roles. This film follows an ambitious road contractor who faces opposition from everyone.
24- Heyy Babyy
The lives of three playboy friends are completely changed when a baby is left at their doors. They unwillingly shoulder the responsibility of caring for the child and learn many valuable life lessons.
25- Aamdani Atthanni Kharcha Rupaiya
Three men want to stop their wives from working despite earning a meagre sum of money. They use hilarious methods to accomplish the same. The comedy legends Johnny Lever and Govinda lead this Bollywood film.
26- Kya Kool Hai Hum
Two friends move to Mumbai to make their careers, but they are suddenly saddled with bad fortune. The funny situations that ensue in this film will have you rolling on the floor.
27- Apna Sapna Money Money
A Christian enlists the help of his conniving cousin to win his love. However, he invites trouble by bringing his cousin, who is chased by the cops in this situation. Ritesh Deshmukh is just phenomenal in this film.
28- Fukrey
Four men who want to make easy money approach a female gangster to invest in their scheme. What happens after that is a sure laughter riot. It's one of the best Bollywood comedy movies to watch right now.
29- Mere Baap Pehle Aap
A man who is raised by a single father finds out that his father had a crush on someone in his old days. He then embarks on a mission to help his father reunite with his love.
30- Yamla Pagla Deewana
The father and son trio Dharmendra, Sunny Deol and Bobby Deol featured in this Bollywood comedy movie that follows a father and son conmen duo.
31- Bombay to Goa
India's top stand-up comedians of one time united in one of the best Bollywood comedy movies ever. People who are going to Bombay on a bus learn about a hidden treasure from a dying man and then try to be the first to get to that.
32- Fool n Final
JD, a criminal, send a group of foolish thieves to steal a diamond, but they get entangled in hilarious situations, and everything turns completely messy.
33- C Kkompany
Last but not least on the list of best Bollywood comedy movies is C Kkompany, which follows three friends who form a fake extortion group to get rid of their financial woes.