Well, we all agree that Bollywood is getting better with its sci-fi handling with time but still, the road to success is quite far away. The best sci-fi movies produced in the west are much more engaging and have that gripping storyline and VFX that the Hindi film industry is not close by a mile for the moment. Here we have listed the best Hindi dubbed sci-fi movies that you can watch on Netflix if you are looking for something awestruck.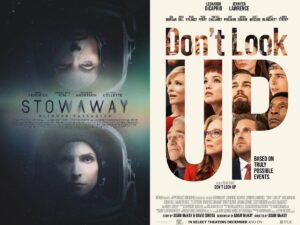 10 Best Hindi Dubbed Sci-Fi Movies on Netflix Right Now
1- Don't Look Up
With Leonardo Di Caprio in lead, you can already be assured that this is one of the best Hindi dubbed sci-fi movies streaming on Netflix. Two astronomers discover that a comet that can destroy the planet Earth is heading towards them. They go on a media tour to alert everyone about the same but no one seems to believe them.
2- Stowaway
Anna Kendrick plays the lead in this recently released sci-fi movie that's being hailed by critics for its gripping narrative. A three-person mission to Mars is jeopardized when the astronomers encounter an unplanned passenger. They face grave choices which can easily become the reason for their demise.
3- Oblivion
The action phenomenon Tom Cruise features in this film as a drone technician. He sets out to uncover the mysteries of a nearly abandoned Earth in future when he encounters a mysterious woman who crashes with a spacecraft on Earth. It's a thrill ride and one of the most exhilarating Hindi dubbed sci-fi movies on Netflix.
4- The Matrix
Keanu Reeves's all-time classic in the sci-fi genre, The Matrix is a must-watch film. It follows a computer hacker who goes down the rabbit hole while searching for what really is the Matrix. It's considered a classic in the world of science fiction.
5- Oxygen
This latest Netflix sci-fi movie follows Liz, a woman who wakes up in a cryogenic chamber with no memories of her past and how she ended up there. She must fight to stay alive and find a way to get out of the chamber before the oxygen runs out. It's an edge-of-the-seat thriller and definitely one of the best Hindi dubbed sci-fi movies on Netflix.
6- The Adam Project
This sci-fi involves elements of comedy and action which makes it a fine film to watch when you want something visually stunning but not too draining. It follows a time-travelling fighter pilot who teams up with his 12-year-old self to save the world.
7- The 5th Wave
This sci-fi movie may remind you of some fancy animes if you have seen them. Four waves destroy the Earth almost completely and a girl sets out to find her brother before the fifth one strikes. She teams up with a strange to do so. It's my personal favourite among the best Hindi dubbed sci-fi movies on Netflix.
8- Mirage
A confusing and mind-blowing sci-fi film that you may need to watch twice to grasp the full concept of the movie. It has already inspired a Bollywood remake but we all know watching the original flick is always a bit better. Money Heist's fame Alvaro Morte features in this film.
9- Edge of Tomorrow
A man known as Bill Cage gets stuck in a time loop where is killed every time. He must save himself and thwart the alien invasion to end the time loop for good. This is one of the best Hindi dubbed sci-fi movies featuring Tom Cruise in the lead on Netflix.
10- Lucy
A young American woman is experimented on with tons of drugs in Taiwan which ends up triggering superhuman powers in her. She then goes after the people who had experimented on her. The Hollywood beauty Scarlett Johansson is the lead actress in this movie.