"Medicine, law, business, engineering, these are noble pursuits and necessary to sustain life. But poetry, beauty, romance, love, these are what we stay alive for," this quote from Dead Poet's Society is enough to justify why romantic movies are important in this fast-paced era. Every day we as a society are perhaps starting to love a little less with the advancements taking over and people getting so busy that they tend to forget about their loved ones at times. Now, what's better than watching a few romantic movies in Hindi on Netflix India to reignite that love and passion that we feel for our partners in life?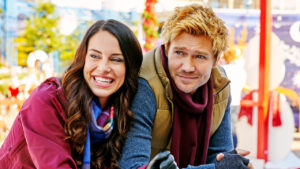 Top 10 Best Romantic Movies in Hindi on Netflix India
1- Falling Inn Love
A mushy and typical love story is sometimes what we need to feel good about our lives and, of course, grateful for all the love we get from others. Falling Inn Love is about a San Fransisco exec who wins a New Zealand inn and abandons everything to turn the rustic property into a marvel. She gets help from a handsome contractor, and the sparks between them fly.
Also Read: Best Romantic Web Series in Hindi on Netflix India in 2022
2- Holidate
Two singles fed up with being alone on holidays decide to enter a platonic love relationship for a year to give each other company. However, they start to catch real feelings for each other along the way. It's a heartwarming romantic movie in Hindi on Netflix.
3- The Royal Treatment
A young New York hairdresser gets an opportunity to work at a Prince's wedding. She is excited about the job and takes it up. However, once there, she starts to catch feelings for the Prince, which turns everything complicated.
4- A Perfect Pairing
A Los Angeles wine exec accepts to work on an Australian farm in order to win a client's favour. She meets up with a rugged and mysterious man at the sheep farm, and the sparks between the two start to fly. It's a simple but beautiful love story.
5- Through My Window
This is more of a modern romantic movie in Hindi on Netflix. The premise will certainly relate to the Gen-Zs in the house. Raquel has a crush on her next-door neighbour, who ultimately starts developing feelings for her. However, the guy's family objects which turn the situation a bit complicated.
Also Read: 10 Best Tollywood Romantic movies of all time
6- Resort to Love
A singer going through the hardships in life after having a broken marriage and a career meltdown takes up a swanky gig at an island to get away from all the negativity. However, when she lands on the island, she discovers that her ex-husband is also there and is actually getting married to someone else.
7- The Last Summer
Do you remember your transition from school to college? How does everything change in just a blink of a moment? This romantic movie in Hindi on Netflix is about teens who go through a transformative summer before finally leaving for their colleges.
8- Purple Hearts
This recently released romantic movie in Hindi on Netflix is about an aspiring musician who enters into a marriage of convenience with a soon-to-be-deployed marine. However, a tragedy strikes and turns their phoney relationship all too real.
9- To All The Boys I've Loved Before
Lara Jean, a normal high-schooler, suddenly experiences a drastic change in her life when her secret love letters to her five crushes are somehow mailed to them. It's based on a romantic novel written by Jenny Han.
Also Read: 10 Best Korean Romantic Movies to Watch in Hindi on OTT Platforms
10- Too Close for Christmas
A woman going through a breakup plans to spend her Christmas with her sister's new in-laws. However, her plans turn complicated when the man who triggered her breakup with her ex shows up in her life.
Liked our recommendation of the best romantic movies in Hindi on Netflix? Share your views with us via social media handles.