The wedding season is approaching quickly and swiftly. Soon, most of us will start to receive invitations from our closed about a wedding reception or function. The ladies in the house deserve to be the spotlight at these functions; to do that, they need bangles that can shine as bright as their beauty.
Here are the 20 Best Markets to Buy Bangles in India
1- Churi Wali Gali in Chandni Chowk, Old Delhi
It's a perfect place for the Delhiites to buy all kinds of bangles ranging from ones made from glasses to ones made from metals. Their wide range of colourful bangles at an affordable and often negotiable price is perfect for this wedding season.
Also Read: 44 Best Back Hand Mehndi Design Ideas For The Main-Eventer In You
2- Bangle and Bindi Market Behind Hanuman Mandir in CP, Delhi
Connaught Place is a perfect spot for hanging out or shopping. You can find almost everything you need at this place in Delhi, and we are delighted to tell you that a hidden gem of a bangle market behind the famous Hanuman Mandir in CP is the perfect place to buy all kinds of colourful and unique bangles that will make you stand out.
3- Sadar Bazar in Delhi
Another shopping spot that many Delhiites visit regularly for its affordable nature, Sadar Bazar is the perfect spot to shop for bangles in the city. They have everything from Rs 100 to Rs 5,000 per set of bangles. The wide array of collections would surely make you spend hours at the place.
4- Seelampur Market in Delhi
Another Delhi market which is famous for its affordable clothes, is home to some of the bangles that you can find in the city. Many Delhiites are still unaware that the Seelampur market is great for buying affordable, long-lasting bangles in all colours and designs.
5- Firozabad Bangle Market in UP
Firozabad, a city located near Agra, can be called the Bangle capital of India as it is the home of the bangle industry. Every other house in this city has been involved in the occupation of making bangles for quite a few decades now. You name the type of bangle you want, and you can definitely find it here. Since you will be directly shopping from the makers, you will also save quite a lot of money.
6- Laad Bazaar or Choodi Bazaar in Hyderabad
This one is for the Hyderabadis and those who plan to go there in the future. Don't miss out on this famous Laad Bazaar or Choodi Bazaar of Hyderbad to get the best bangles. The 1 km long strip is studded with shops that sell all kinds of bangles.
Also Read: Healthy Food Options at Weddings for the Wedlock Season
7- Charminar Bangles Market in Hyderabad
Another bangle market in Hyderabad is filled with colourful, beautiful bangles that you can bargain for. The market has something for everyone, and if you don't get what you need at Choodi Bazaar, you can always come to this place to explore different options for bangles.
8- Santacruz Market in Mumbai
Santacruz Market in Mumbai is one of the best places to shop for wedding accessories in Mumbai. Here you can discover various kinds of bangles, kadas and much more. If you are a soon-to-be bride, you can find bangles that match the vibe of your dress at this place.
9- Colaba Causeway Market in Mumbai
Another bangle market in Mumbai that can be your go-to place this wedding season for buying unique bangles that will make you appear in a different spotlight at the weddings. Also, you can shop for various vintage and antique accessories here.
10- Dadar Market in Mumbai
Well, if you are planning to buy a lot of bangles, this is the right place for you. There are many wholesalers who will sell you the bangles on a scale of dozens. You can obviously choose from their wide range.
11- Tripolia Bazaar Jaipur
This is a hidden gem in Jaipur, Tripolia Bazaar is a spot you should definitely visit if you are in Jaipur. Along with beautiful bangles, you can also shop for popular Bandini tie and dye fabrics with rich embroideries at this place.
12- Chandpole Bazaar in Jaipur
This market is actually more famous for handicrafts than bangles. But when we visited it, we were completely blown away by the variety of bangles available at this place. This is a must-visit place for bangles lovers.
13- Nahargarh Road in Jaipur
Another place that's brimming with all sorts of bangles is Nahargarh Road in Jaipur. There are many shops here which sell only bangles at this place. You won't be disappointed if you visit this place as you can also enjoy the beauty of the nearby Nahargarh Fort before you go on a shopping spree.
Also Read: 10 Best Wedding Gift ideas to surprise your Best Friend on their marriage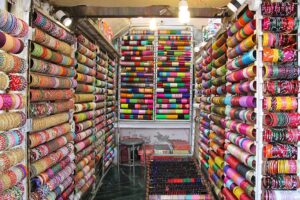 14- Gadbad Jhala Market In Aminabad, Lucknow
This market is often termed the equivalent of Delhi's famous Sarojini Nagar due to its affordable and diverse range of products. Many locals believe that without visiting this place, a family cannot plan their wedding perfectly. From bangles to all kinds of jewellery, you can find all you need to glam up.
15- Lal Darwaja in Ahmedabad, Gujarat
Lal Darwaja in Ahmedabad has been one of the busiest shopping streets for years. You can buy anything from bangles to clothes to unique jewellery items that you can show off. Moreover, the snacks at this place will make your trip worthwhile.
16- Bridal Bazaar in Palampur, Himachal Pradesh
It is clear from the name itself that this market is great for buying anything related to weddings. Bridal Bazaar in Palampur is heaven on earth for the brides. From beautiful bangles to glittery kadas and all sorts of jewellery, you can buy everything in one place.
17- Chauta Bazaar in Surat, Gujarat
Chauta Bazaar in Surat is existing from 1700s. It is one of the oldest markets in India, and apart from beautiful bangles, you can buy wallets, purses, dresses, jewellery and much more here.
18- Marothiya Bazaar in Indore
A shop by the name of Radha Kangan is very popular in this market for a huge variety of bangles at reasonable prices. You can also buy organic Mehndi in this market, which will definitely add more brightness to your beauty.
19- Sarafa Bazaar in Indore
Another perfect place for shopping for bangles this wedding season is Sarafa Bazaar in Indore. If you think you won't stop at just bangles and would need more kinds of jewellery, visiting this place is a must for you if you are in Indore.
20- Ranipura Market in Indore
Last but not least on this list is Ranipura Market in Indore, a place where you can buy colourful bangles that will prove to be delightful for you. It's one of the most popular markets in Indore and definitely worth checking out even if you are not shopping for bangles in particular.