If you are a North Indian then you definitely relate to web series and movies which are originally in Hindi or dubbed in it. However, the Indian web series is now getting repetitive with a lack of new concepts to offer. But watching English web series is not everyone's cup of tea to up the level of entertainment. Well, don't worry anymore cause we have listed here the best Hindi dubbed web series on Netflix to watch right now. You will surely enjoy these web series due to their unique concepts.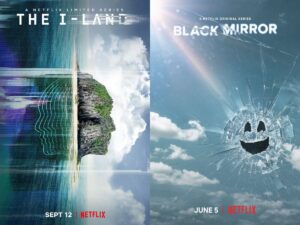 10 Best Hindi Dubbed Web Series on Netflix to Watch in 2022
1- Altered Carbon
What's better than watching a sci-fi Hindi dubbed web series filled with mystery, thrill and action on Netflix right now? Altered Carbon has it all. The show brings a fresh and unique plot in which a man is woken up after 250 years of his death by an industry Titan to solve his own murder.
2- Criminal: UK
This is another show that you won't find a replacement for in the Indian diaspora. We promise it's something that you may have not seen before. The show has only three episodes which are concluded in a single investigation room where detectives question the suspected criminals. Each episode brings a new investigation to the front. It's my personal favourite on this list of best Hindi dubbed web series on Netflix in 2022.
3- Mindhunter
This series takes the concept of delving into the psyche of murderers to the next level. Unfortunately, the series has been halted after two seasons but it's definitely a must-watch Hindi dubbed web series on Netflix. An FBI hostage negotiator teams up with a veteran agent to study the psych and motive of the criminals.
4- The I-Land
If you watched the show Lost and miss its intriguing storyline and plot then you should definitely consider watching this mystery thriller in Hindi on Netflix. The show follows 10 people who wake up on a dangerous and enigmatic island where they have to fight for their survival with no memories of their past.
5- The Order
Who does not love magic? Most of us gravitated towards the Harry Potter series due to its magical nature. Well, that story has been finished for quite a long time and if you want to watch an equally exciting story then watch The Order. A secret society of magic gets in trouble when a series of unexplained murders start to take place in the university.
6- The End of the F**king World
It's one of the best Hindi dubbed web series on Netflix to watch in the comedy genre right now. The show is about a 17-year-old male who is tired of killing animals and wants to finally murder a human. He is caught off-guard by a brash girl who is equally as crazy as him.
7- Black Mirror
This British web series with 5 seasons of content available is among the best sci-fi Hindi dubbed web series on Netflix right now. The series is set in a dystopian future in which few individuals struggle with the manipulative effects of cutting-edge technology in their personal and professional lives.
8- The Protector
It's a Turkish drama web series that's now available in its Hindi dubbed version on Netflix. Hakan a young shopkeeper learns that he is connected to a secret ancient society which fights against an immortal enemy to protect Istanbul. He is revealed to be the protector but his feeling and emotions lead him to doubt his job and aim in life.
9- Shadow and Bone
Shadow and Bone is a web series that relies on magic, fantasy, adventure and action. It is focused on a girl who harbours the power to unite the world but the sinister forces lurking in the dark are willing to go to any lengths to stop her.
10- Space Force
Last but not least on the list of best Hind dubbed web series on Netflix in 2022 is this comedy-drama featuring everyone's favourite Steve Carell. The show has a fascinating concept for a comedy web series and follows a group that is tasked with establishing the US space force.