India, a land of vibrant traditions and diverse cultures, celebrates beauty in all its myriad forms. The beauty industry in India has evolved into a dynamic and thriving force, blending centuries-old traditions with modern trends and techniques. To embark on the quest for the ultimate beauty experience, one need not look further than the top 10 salons in India.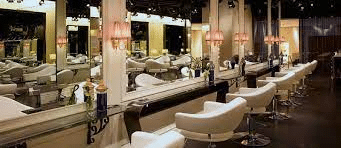 These establishments have earned their reputation for providing a remarkable fusion of heritage, luxury, and innovation. They offer a diverse range of beauty and wellness services, from rejuvenating skincare treatments to cutting-edge hair makeovers, all designed to pamper and enhance your natural allure. In this article, we'll delve into these Top 10 Salons in India that embody the essence of India's beauty culture.
Get the Ultimate Beauty Experience with the Top 10 Salons in India
1. Lakmé Salon
Lakmé Salon, a part of the iconic Lakmé brand, has been at the forefront of the beauty and grooming industry for many years. With its contemporary approach and a team of highly skilled experts, it caters to every beauty need. Whether you're looking for a makeover or a simple touch-up, Lakmé Salon offers a range of services that combine the latest trends with personalized care.
2. Jawed Habib Hair and Beauty
Jawed Habib is a name synonymous with haircare in India. With a legacy spanning over three generations, the Jawed Habib brand has carved a niche in the beauty industry. The salons under this brand not only offer cutting-edge hair treatments but also a comprehensive range of beauty services.
If you're looking for one of the top salons in India that understands the nuances of haircare and styling, Jawed Habib is the place to be.
3. Kaya Skin Clinic
For those seeking specialized skincare solutions, Kaya Skin Clinic is a go-to destination. With a team of dermatologists and trained professionals, Kaya offers a range of treatments that address specific skin concerns. From acne and pigmentation to anti-ageing solutions, Kaya's expertise in skincare is unrivalled.
4. Naturals Salon
Naturals Salon is another prominent name in the beauty industry, with over 700 salons across India. They combine contemporary trends with traditional techniques, offering a wide range of beauty services, including hairstyling, skincare, and makeup. Naturals is known for its affordable luxury, making it accessible to many customers.
5. Shahnaz Husain Herbal Salon
Shahnaz Husain is a pioneer in herbal beauty treatments. Her eponymous salon chain is renowned for its natural and holistic approach to beauty. The salon provides a range of herbal beauty and skincare treatments, using products that are gentle on the skin and environmentally friendly. If you prefer organic and herbal solutions, Shahnaz Husain Herbal Salon is the ideal choice.
6. Enrich Salons and Academy
Enrich Salons and Academy is a brand that combines beauty services with education. With a team of highly trained professionals and a commitment to providing quality services, Enrich is known for its innovative approach. They offer a variety of treatments, including haircare, skincare, and nail services, and have a reputation for consistently delivering high-quality results.
Recommended: Delhi NCR's Top 10 Luxury Massage Destinations
7. BBlunt
BBlunt is a name that stands out in the world of hair care. With an impressive array of hair services and an innovative approach to hairstyling, BBlunt has garnered a dedicated following. Whether you're looking for a trendy haircut or a vibrant hair colour transformation, BBlunt has the expertise to make your hair dreams a reality. It is one of the best Salons in India.
8. Warren Tricomi
Warren Tricomi is an international salon chain that has made its mark in the Indian beauty industry. Known for its luxury services and celebrity clientele, the salon offers a wide range of treatments, from hair and makeup to skincare and spa services. The brand's commitment to providing a luxurious and pampering experience is what sets Warren Tricomi apart.
9. Jean-Claude Biguine
Jean-Claude Biguine is an international salon brand with a strong presence in India. Their salons are known for their French sophistication and world-class services. With a focus on precision and a keen eye for the latest trends, Jean-Claude Biguine offers a complete beauty experience that refreshes and rejuvenates clients.
10. VLCC
VLCC, or the Vandana Luthra Curls and Curves, is a wellness and beauty conglomerate that has a strong presence in India and abroad. With its holistic approach to beauty, VLCC provides services such as weight management, skin treatments, and hair care.