MX Player has gained recognition among the OTT platforms in India with shows like Aashram, Bhaukaal, Raktanchal and more. The thriller series and the Hindi dubbed romantic Korean web series on MX Player have become fan favourites. However, the OTT platform offers much more than thrillers and Korean shows. The best romantic web series on MX Player can easily match the level of Netflix, Hotstar and other digital streaming services. Here, we have curated a list of the best romantic shows you should consider adding to your watchlist.
10 Best Romantic Web Series on MX Player:
1- Broken But Beautiful
This sensual love drama features the late actor Siddharth Shukla alongside Vikrant Massey and Harleen Sethi. It's a beautiful tale of two people's love that includes heartbreak, betrayal and everything else that one can imagine in hyping up the thrilling aspect of an amorous adventure. Broken But Beautiful is among the best romantic web series on MX Player that definitely deserves a spot on your watchlist.
2- Monty Pilot
Monty Pilot is a hot romantic web series dubbed in Hindi on MX Player. The show was originally made in Bengali. It features Solanki Roy, Saurav Das, Chandrayee Ghosh and Alivia Sarkar in prominent roles. The sensual romantic drama is set in a red-light area of Bengal. You will be enthralled by the boldness that this series brings to the screens.
3- My Girlfriend is An Alien
This Hindi-dubbed romantic web series is a Korean original that's rated highly by critics. The show stars Wan Peng, Thassapak Hsu and Wang You Jun in the lead roles. It follows an alien girl who is somehow stranded on Earth. She ends up with an overbearing boss, and the two start to develop feelings for each other. It's easily one of the best romantic web series on MX Player at the moment.
4- Pati Patni Aur Woh
Anant Vidhat Sharma, Riya Sen, Vinny Arora, Saksham Shukla and Jaspal Sharma feature in this romantic comedy web series on MX Player that will keep you smiling all the time. The show follows a man who is unable to find alone time with his new wife. Every time he forges a plan to be with her alone, something ruins his happiness.
5- Pati Patni Aur Panga
Pati Patni Aur Panga deserves to be named in the list of best romantic web series on MX Player due to its uniqueness in bringing about a topic like sex change to the OTT platform. It's among the very first web series to give this sensitive topic great discussion. The show follows a guy who learns that his wife had a sex change operation before their marriage. Hints of comedy here and there make it a series that you should definitely spend your time on.
6- Pawan & Pooja
Sharman Joshi, Gul Panag, Mahesh Manjrekar, Deepti Naval, Geetika Vidya Ohlyan, Natasha Bharadwaj and Taaruk Raina feature in this romantic Indian web series on MX Player. The show follows three different couples from three different generations with exact same names. Sounds intriguing, Isn't it? The romantic drama is definitely one you should try watching this weekend.
7- Love is in the Air
Love is in the Air is a hot and bold romantic web series on MX Player. It was originally made in Turkish and later got dubbed in Hindi before making its OTT debut. The seductive drama follows a girl who dreams of making it big with her hard work after graduation. However, certain difficulties in her life make it hard for her to achieve the main goal. It's deservedly in the list of best romantic web series on MX Player.
8- Roohaniyat
Arjun Bijlani, Kanika Mann and Yuvika Chaudhary play the lead in this romantic drama that will send you on a binge-watch marathon. The show follows a happy-go-lucky 19-year-old girl who believes in forever love and starts falling in love with a 35-year-old guy. However, the man is going through the trauma of losing his beloved and wants to do nothing with love. Will their romantic endeavour start or not?
9- Love Ka Panga Emotion Ka Danga
This beautiful easy going love story will start to grow upon you with every single episode. The show stars Meenu Panchal, Asha Negi and Ansh Bagri in the main roles. It is one of the best romantic web series on MX Player that focuses on a girl and a boy with completely opposite personalities stuck together.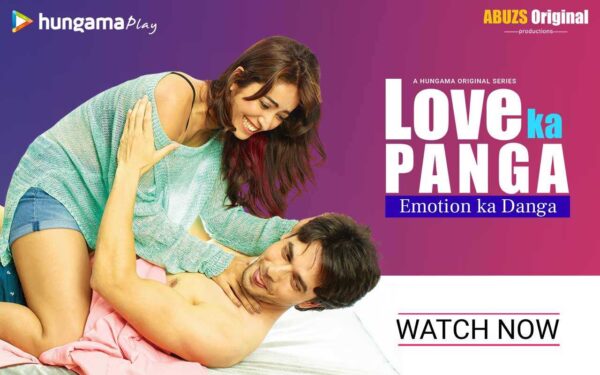 10- Cheesecake
Those who love dogs and believe in healing powers will love this romantic web series on MX Player. The show features Akanksha Thakur, Jitendra Kumar, Kumar Varun and a golden retriever in the lead roles. It depicts how the mundane life of a married couple changes after the arrival of a dog in their lives.