Horror movies have a different appeal than comedies and dramas. Sometimes you just wanna snuggle and watch a good horror flick that can make you forget all the worries and help you experience just pure fear. Hollywood horror movies are definitely much better than their Bollywood counterparts. Without the best Hollywood horror movies on Netflix are filled with twisted dark scenarios that can give you sleepless nights. Here we have found some of those Hollywood horror films that you should stream right now.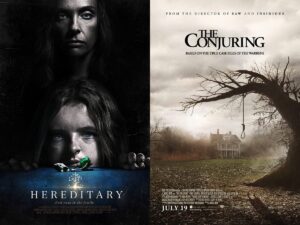 10 Best Hollywood Horror Movies on Netflix to Watch
1- The Conjuring
This is one of those Hollywood horror movies that made headlines due to its gripping tale which was inspired by a true story. A family moves into a new house and starts experiencing supernatural horrors. They decide to involve two demonologists to get rid of the demons in the house. It's one of the best Hollywood horror movies on Netflix to watch right now.
2- The Conjuring 2
The sequel to The Conjuring is also one of the best Hollywood horror movies on Netflix. The film follows a woman in London whose house is plagued by a malevolent spirit which was unintentionally released by her daughter in the house. She then seeks the help of the demonologists to get rid of the spirit.
3- The Nun
This Hollywood horror movie will surely make you fear for your life. The movie follows a young nun who travels with a priest to Romania to uncover the secrets behind a malevolent spirit that's haunting a sacred site. This is one of the highly recommended Hollywood horror movies on Netflix in 2022.
4- Ouija: Origin of Evil
A young girl who is the daughter of a fake medium tries to form a communication pathway with her father through the Ouija board. However, she unleashes a demon spirit which drastically changes everything.
5- Annabelle
A creepy Hollywood horror film that can people with weak hearts cower in fear while watching the paranormal activities unfolding before them. Annabelle is a doll that a husband gives to her wife but the joy it brings is only for a short amount of time. You need to watch this Hollywood horror movie on Netflix if you love uneasy dramas.
6- Veronica
A teen girl holding the fort for her younger siblings suspects that an evil spirit has entered their apartment. The film is set in 1991 Madrid and gives the vibe of that vintage horror that is just crazy enough to make you question everything. This one is my personal favourite on this list of best Hollywood horror movies on Netflix.
7- The Unholy
A teenage girl develops an uncanny ability to heal people. She attributes the magical power to the Virgin Mary. However, she soon discovers that the entity behind her power is not a holy but unholy one.
8- No One Gets Out Alive
A desperate woman struggling financially in her life ends up at a rundown Cleveland boardinghouse. There her horror journey begins as she starts to experience moments of supernatural terrors and eerie visions that do not make any sense at first. It's an edge-of-the-seat thriller and definitely one of the best Hollywood horror movies on Netflix in 2022.
9- Hereditary
An artist and her family uncover their terrifying legacy and grapple with the malevolent powers beyond their control after the death of their mother. This is a certain uneasiness in its narrative that makes it hard to watch but what can we say we love horror dramas and if you do so too you should watch this now on Netflix.
10- Hush
A horror movie with only a very few characters and tension that will make you sweat for about one and a half hours, Hush is a flick that you don't wanna miss out on. The film follows a deaf writer living a solitary life until a masked killer appears at her window.
If you liked our list of best Hollywood horror movies on Netflix please share it with your friends and family.