India's lively and flourishing film industry enthrals fans both domestically and abroad thanks to the country's rich cultural heritage and diverse landscapes. Indian films are renowned for their vibrant storylines, engaging music, and stunning dance performances.
While Bollywood, which is located in Mumbai, is the most well-known and internationally renowned film business in India, there are several other places that have significantly influenced the country's film industry. Explore the top seven Indian film cities, each of which highlights the variety of Indian cinema.
Top 7 Film Cities in India
1. Mumbai – The Heart of Bollywood:
Mumbai, the financial capital of India, is also the heart of the Indian film industry, affectionately known as Bollywood. The majority of Hindi-language films are made by Bollywood, which also has India's largest film industry in terms of total production and viewership. Numerous film studios, production companies, and post-production facilities are located in the city. Bollywood is well known for its vibrant musicals, endearing love stories, and action-packed blockbusters.
One of India's largest film production facilities, Mumbai's Film City is situated in the northern district of Goregaon and serves as a key shooting venue for numerous films and television programmes. Aspiring actors, directors, and filmmakers from throughout the nation are drawn to the city because of its vitality, lively culture, and rich film heritage, which combine to create a creative melting pot.
2. Chennai – The Heart of Kollywood: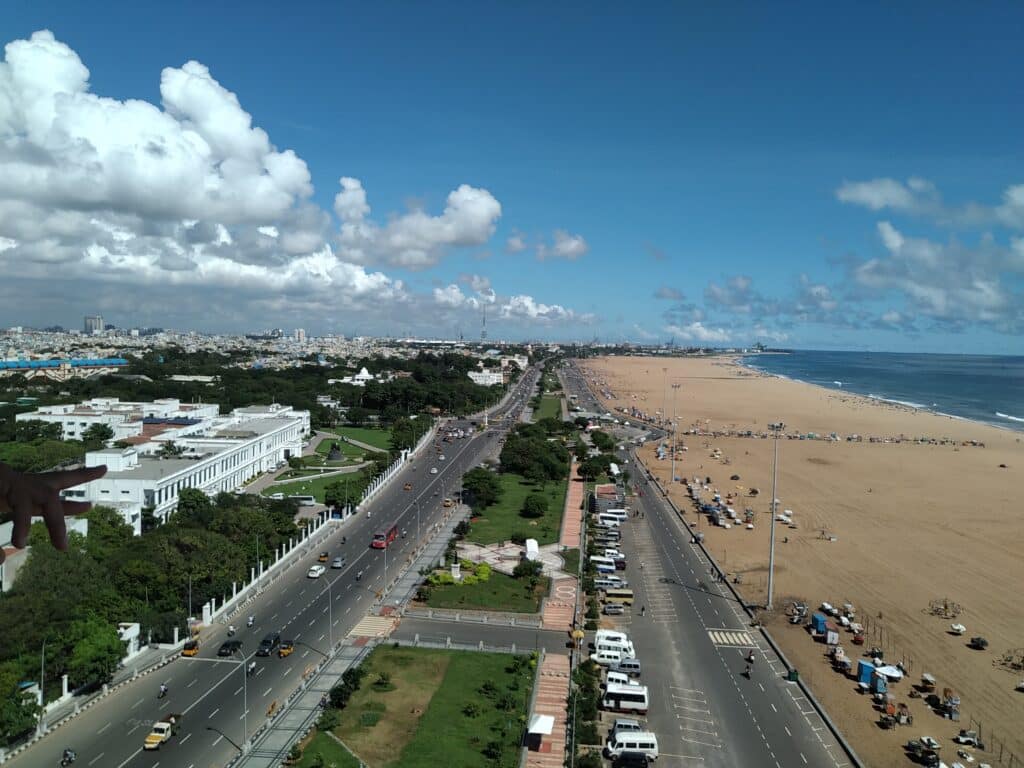 The Tamil film industry, often referred to as Kollywood, is associated with Chennai, the state of Tamil Nadu's capital. Tamil cinema has a long history and has made significant contributions to Indian film. Kollywood is renowned for its experimental films, socially conscious topics, and aesthetic storytelling.
Renowned production companies, studios, and skilled filmmakers may be found in Chennai. Due to the concentration of activity related to the film industry in Kodambakkam, an area in Chennai, it is frequently referred to as the "Kollywood" district. Tamil cinema has flourished thanks to the city's strong cultural identity and intellectual climate, producing several great directors and actors.
Recommended: 10 Happiest Cities In The World
3. Bengaluru – The Hub of Sandalwood:
Bangalore, often known as Bengaluru, is a key cinema hub in India and the home of Sandalwood, the Kannada film industry. In the state of Karnataka, Kannada films enjoy a devoted following, and Bengaluru frequently acts as the primary shooting location.
Sandalwood is renowned for its varied content, which includes family dramas and storylines with current societal issues. Filmmakers are drawn to the city's contemporary infrastructure and nice climate. The film business in Bengaluru is still thriving, creating films with strong content that appeal to audiences.
4. New Delhi – The Capital of Bollywood:
While Mumbai continues to be the main centre for Bollywood, the Hindi film industry also has a sizable presence in New Delhi, India's capital city. Filmmakers choose New Delhi because of its historical sites and cutting-edge infrastructure, which makes it a favourite shooting location for many Bollywood films.
Bollywood productions frequently use the city's famous spots to convey the spirit of Delhi in their films. Delhi's film fans and viewers add to the city's appeal as a popular film destination.
5. Hyderabad – The Land of Tollywood:
Hyderabad, the heart of the Telugu film industry, often known as Tollywood, is a significant film city in India. Tollywood, which makes Telugu-language films, is renowned for its opulent production values, epic action scenes, and family-friendly dramas. Hyderabad is a popular location for filming because of its cutting-edge facilities and beautiful surroundings.
One of the biggest film production facilities in the world is the Ramoji Film City, which is also a well-liked tourist destination and is situated in Hyderabad. Hyderabad is an important centre for the Telugu film industry because it is where many blockbuster Telugu films are shot.
6. Kolkata – The Birthplace of Indian Cinema:
The history of Indian cinema maintains a unique place for Kolkata, the country's cultural centre. The Lumière brothers first screened their short films in Kolkata, inaugurating Indian cinema. Tollywood, the name of the Bengali film business (not to be confused with the Telugu film industry), has a history of creating artistic and critically acclaimed films.
Bengali films are renowned for their literary adaptations, poetic storytelling, and thought-provoking themes. The Bengali cinema industry has grown greatly as a result of the intellectual and cultural climate in Kolkata, which has also given birth to many famous actors and filmmakers.
7. Pune – Rising Star of Marathi Cinema:
The Marathi film industry is seeing growth in Pune, a city in the state of Maharashtra. In recent years, Marathi cinema has seen a renaissance, resulting in films with strong content that have won praise from critics. The history and cultural context of Pune have helped the Marathi film industry grow.
The film industry in Pune is renowned for its realistic storytelling that spans several genres and issues. Filmmakers may flourish in Pune's vibrant artistic and cultural landscape, and the city's film festivals honour the best Marathi filmmaking.