Virat Kohli Hairstyle: The Indian cricketer keeps changing his haircut to look more stylish and handsome on the field. Recently Virat Kohli got a new hairstyle which might be his dashing look for the upcoming T20 World Cup. There were rumours that Kohli's latest hairstyle had cost him a massive amount of Rs 80,000. His new haircut is already a hit among Indian cricket lovers.
Here is the new Virat Kohli Hairstyle that's making all the noise: 
Virat Kohli got this new hairstyle from the celebrity stylist Rashid Salmani. Other cricketers like Hardik Pandya and Shreyas Iyer have also gotten their haircuts from this celebrity stylist that reportedly charges quite a hefty amount. Don't you think the former Indian captain looks stylish?
Here Are The 10 Coolest Virat Kohli Hairstyle:
1- Virat Kohli's Spike Haircut
The Indian cricketer looks awesome in this cool haircut. His spike hair matches his sharp personality. This hairstyle of King Kohli is highly popular to this day. It inspired many people to sport a spike look.
2- Professional Pompadour Hairstyle
Only one Indian cricketer could have pulled off a professional pompadour hairstyle, and that is none other than Virat Kohli. He keeps the balance between being a professional sportsperson and a person who enjoys his game.
3- Sporty Hairstyle of Virat Kohli
King Kohli is India's backbone for all the right reasons. His activeness on the field makes him one of the most electrifying players ever to play international cricket. This sporty hairstyle goes very well with his energetic aura.
4- Messy Undercut Hairstyle
This messy undercut suits the Indian player who is now enjoying his game as a regular member with no added responsibilities that were making his hairs go grey. This Virat Kohli hairstyle gives off a chill and carefree vibe, and we absolutely loved it.
5- Virat Kohli Mid-High Fade Hairstyle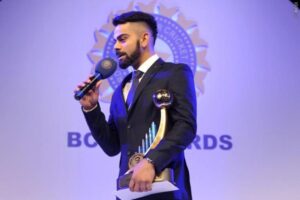 King Kohli sported this haircut when he was going through a wonderful phase in his career. He was making records after records, and we could not keep calm about his looks and his unparalleled batting. He looks fantastic in this mid-high hairstyle that he paired up with a beard.
6- Thick Sides Quiff Haircut
This is one of the most popular hairstyles sported by Virat Kohli in his career. He looked great in this haircut and probably started getting recognised as a fashion icon along with being a great cricketer all over the world.
7- Virat Kohli Taper Fade Hairstyle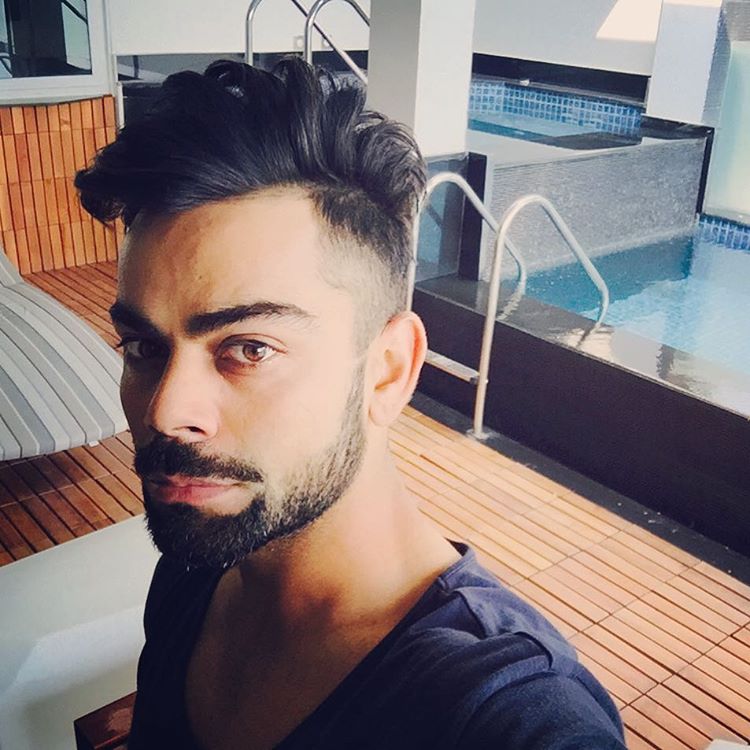 This old hairstyle of Virat Kohli suited him very well. His experimentation with his haircut resulted in a wonderful outcome. We wish that King Kohli had sported this look for longer than he actually did. He just looks so good, isn't he?
8- Spike Haircut with Two Lines on Each Side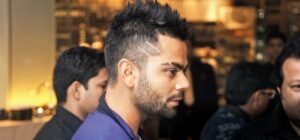 This was the hairstyle that Virat Kohli adopted when he was starting to become a sensation in world cricket. His ruthless aggression paired well with this aggressive hairstyle. This haircut just oozes his personality of that time.
9- Virat Kohli Razored Hairstyle
Another popular haircut of King Kohli from his initial days in the cricketing world. The Indian sensation knew how to be the centre of attention with new hairstyles and updated fashion outlooks.
10- Messy High Fade Hairstyle
Last but not least is a Virat Kohli hairstyle that we personally loved. With this look, he gave off a nonchalant vibe that we could not stop raving about. With a trimmed beard, this haircut just looked too good on him.
View this post on Instagram
Clearly, Virat Kohli has the coolest hairstyle among the Indian cricketers. Do let us know which one is your favourite.