Hot Hindi movies filled with thrill and excitement are just what you need to relieve the stress you may be feeling right now. Bollywood is a rather conservative film industry which shies away from Hindi hot movies in the mainstream culture. However, there are some Hindi movies that cross the radar and have been named among the hottest movies that one can watch on OTT platforms. Netflix, Amazon Prime and other digital streaming platforms have some of the best Hindi hot movies in their collection that you can watch right now.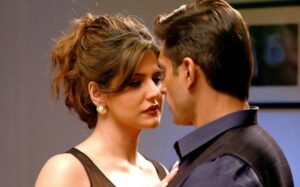 7 Best Hindi Hot Movies from Bollywood to Watch on OTT Platforms
1- Haseen Dillruba
Haseen Dillruba starring Tappsee Pannu, Vikrant Massey and Harshvardhan Rane, is a Hindi hot movie from Bollywood available to watch on Netflix. A woman who is suspected of killing her husband narrates an interesting story to the police.
2- Hate Story 2
Available to watch on Disney+ Hotstar, this hot Hindi movie from Bollywood is about a woman who serves as a political leader. The woman falls in love with a young guy who is killed by the political leader, which makes her devise a plan to avenge the murder of her lover.
3- Hate Story 3
Hate Story 3 is also a Hindi hot movie available to watch on the OTT platform Disney+ Hotstar. The film follows a couple who is given an insane deal by a rich businessman. However, when the couple denies the deal, the man destroys their lives.
4- Wajah Tum Ho
A criminal hijacks a news channel and broadcasts a live crime. The investigating officer is puzzled when the suspect in the crime is also broadcasted on the same channel as the victim. This thriller is one of the best Hindi hot movies from Bollywood on Amazon Prime Video.
Also Read: 7 Best Hollywood Hot Movie List | Know Where to Watch
5- Nasha
This hot Hindi movie from Bollywood featuring Poonam Pandey is available to watch on YouTube. It follows a student who gets enthralled by his drama teacher and becomes obsessed with her. It ultimately leads to disastrous outcomes.
6- Zid
This Hindi hot movie from Bollywood, available to watch on Amazon Prime Video and MX Player, follows a woman who falls in love with a crime reporter. However, things take a turn for the worse when they are the prime suspects in a crime.
7- B A Pass 2
A young woman who does not want to get married at a young age relocates to Mumbai. However, in the city, she learns the hard truths of life. This hot Hindi movie from Bollywood is now streaming on Netflix.