Tamil dubbed Hollywood movies were once hard to find on OTT platforms, but now Netflix has made it easy for everyone to discover the best Tamil dubbed Hollywood movies with ease. The most popular Hollywood films are now being dubbed in Tamil as the Tamil film industry is gaining worldwide popularity. Here we have covered the best Tamil dubbed Hollywood movies streaming at the moment on Netflix.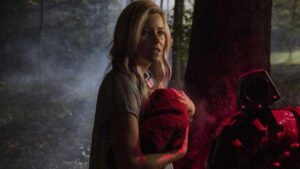 10 Best Tamil Dubbed Hollywood Movies to Watch on Netflix
1- Escape Room: Tournament of Champions
This second part in the Escape Room series is one of the best Tamil dubbed Hollywood movies filled with thrill, suspense and excitement on Netflix. Some people are trapped in a deadly game that they must clear to survive.
2- The Unholy
A teenage girl develops an uncanny ability for healing and attributes it to the divine Virgin Mary. However, pretty soon, it is revealed that the source behind that power is not the divine Virgin Mary but a sinister evil force. It's one of the best horror Tamil dubbed Hollywood movies on Netflix.
3- Red Notice
An FBI profiler pursuing a high-profile thief becomes a reluctant partner when a crook is always one step ahead of both of them and sends them to prison. The trio of Ryan Reynolds, Dwayne Johnson and Gal Gadot star in this Tamil dubbed Hollywood movie.
4- The School for Good and Evil
Two best friends have been whisked away to a magical school to form the future fairy-tale story. They find their bond of friendship tested in the school. This is a newly released Hollywood movie on Netflix.
5- Venom: Let There Be Carnage
Eddie Brock and Venom are trying to navigate their relationship when suddenly, a new threat arrives, and they are forced to work together to stop the evil force. Will they reconcile with each other? You should watch it now as it is one of the best Tamil dubbed Hollywood movies in the action genre on Netflix.
6- Brightburn
A couple adopts a child who fell from a spacecraft. When the child grows a bit older, he starts to become evil and gains superpowers. This puts the parents in a jeopardised situation where they do not know what they should do.
7- Spiderman: Far From Home
This Marvel superhero movie is a breath of fresh air. Peter Parker, on a school trip to Europe, encounters a new threat while trying to navigate his relationship with the girl he likes. It's one of the best superhero Tamil dubbed Hollywood movies to watch on Netflix.
8- Texas Chainsaw Massacre
This Tamil dubbed Hollywood movie is not for the faint-hearted. The film follows influencers who arrive in a Texas town and try to breathe life into the town. However, they encounter an infamous killer who wears a mask made from human skin.
9- The Royal Treatment
It is a romantic Hollywood movie dubbed in Tamil on Netflix. A female New York hairdresser gets an opportunity to work at a prince's wedding. However, she ends up falling in love with the prince.
10- Home Team
Last but not least on the list of best Tamil dubbed Hollywood movies is Home Team, a story of a suspended NFL coach who guides his son's team in a school tournament. It is based on a true story.