Are you looking for some good Hindi dubbed Hollywood movies to watch right now on Netflix? However, you cannot decide on what movie you should devote about two hours of your day to. It's an everyday struggle that all of us have come across. You don't need to scratch your head anymore, though, cause we have listed here the best Hindi dubbed Hollywood movies that you can watch on the most popular digital streaming platform Netflix in 2022.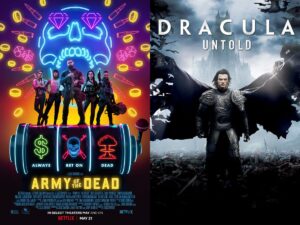 List of Best Hindi Dubbed Hollywood Movies on Netflix in 2022:
1- 300
Those who still haven't watched this masterpiece are missing out on a masterful cinematic experience. 300 is an epic battle movie inspired by mythologies. The film follows King Sparta and his 300 warriors as they go against thousands of men of King Xerxes. It's easily one of the best Hindi dubbed Hollywood movies in the action genre on Netflix in 2022.
2- The Old Gaurd
Released in 2020, The Old Gaurd is another action thriller that won our hearts with its blood-pumping storyline. The edge-of-the-seat experience in this movie is something that you should definitely witness. The film follows four undying warriors who have protected humanity for countless years. Evil people hunt them for their powers.
3- Extraction
A mercenary, played by Chris Hemsworth, takes up the hard job of freeing a drug lord's son from a criminal organisation in Bangladesh. His mission becomes a struggle to survive when he realises the odds at stake and the danger involved. Easily one of the best Hindi dubbed Hollywood movies on Netflix in 2022. Fun fact- Randeep Hooda also plays a key role in this film.
4- Army of the Dead
Another action Hollywood movie that we love streaming on Netflix is Army of the Dead. The film follows a group of mercenaries who ventures into the outbreak of zombies in Las Vegas to pull the greatest heist ever.
5- Red Notice
A recently released action comedy that features Dwayne Johnson, Ryan Reynolds and Gal Gadot in the main roles. The film follows a crook who teams up with an FBI profiler to pursue a thief who is always one step ahead of them. It's a fun movie that definitely deserves a spot in this list of best Hindi dubbed Hollywood movies on Netflix in 2022.
6- Central Intelligence
Dwayne Johnson and Kevin Hart play the main roles in this Hollywood comedy movie, now streaming in Hindi on Netflix. A CIA operative seeks help from his accountant friend to destroy the evil plot conjectured by a few US agents.
7- Dracula Untold
This movie follows the origin story of Dracula, the famous vampire tale that we have all heard. A ruler and a warrior must become vampires in order to save their kingdom from the powerful enemy army. A must-watch Hindi dubbed Hollywood movie on Netflix in 2022.
8- Edge of Tomorrow
Time for a sci-fi flick that brings a breath of fresh air with its unique plot. Edge of Tomorrow starring Tom Cruise traces the story of Bill Cage, who is stuck in a deadly time loop and must find a way to save himself and defeat the alien invasion to escape the time loop.
9- Everest
An inspiring and motivational movie that we personally loved watching in Hindi on Netflix. It's a story of rivalling mountaineers who climbed Everest in 1996 but suffered a massive setback when an unforeseen blizzard put their lives in danger. Definitely a must-watch among the best Hindi dubbed Hollywood movies on Netflix.
10- Lucy
Scarlett Johansson plays an American woman who is made a drug mule in Taiwan. She awakens supernatural powers and goes berserk to kill off the people who have experimented on her. An interesting film that deserves about one and a half hours of your time.