India is the world's biggest and oldest film producer, and it hosts national competitions to honour the greatest movies and promote the industry. However, Bollywood is not the only film industry in India, it is a popular choice because of its enormous domestic and international fan base.
The Times Group held the 67th Filmfare Awards ceremony, which recognised the year's top Hindi-language films from India. The stars of Bollywood were all fully dressed on Tuesday for the 67th Wolf777 news Filmfare Awards 2022, glowing in their finest garb. Bollywood celebrities' every move, from walking the red carpet to performing on stage, has been captured on camera. For more information about the 67th Filmfare Awards, see the article below.
Top Acting Honours
At the 67th Filmfare Awards winners ceremony 2022, which were presented on Tuesday night, Ranveer Singh and Kriti Sanon were named best actors and actresses. Ranveer got the highest acting award for his superb performance as former Indian cricket great Kapil Dev in Kabir Khan's 83. Kriti won for her part as a surrogate mother in the highly acclaimed movie Mimi.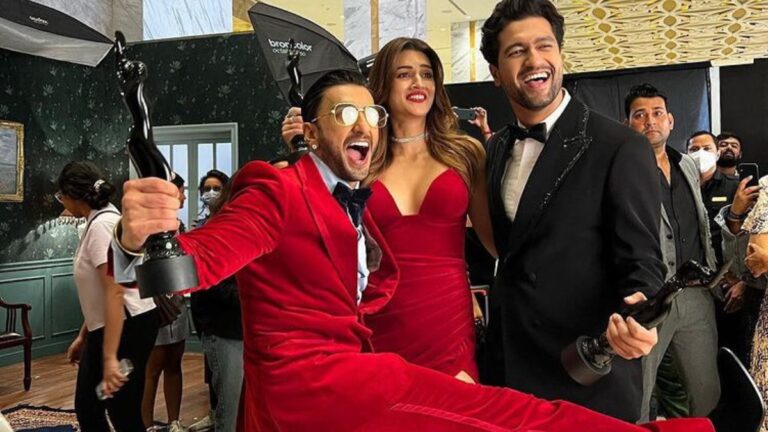 Shershaah, starring Sidharth Malhotra and Kiara Advani, was named the best movie, while Vishnuvardhan won the best director for the biographical war drama based on the life of Vikram Batra, a Kargil War martyr. Sidharth Malhotra portrays both Vikram Batra and his identical twin brother Vishal Batra in the movie Shershaah.
Vidya Balan was also recognised as the best actress for the movie Sherni, in which she plays a stern forest ranger named Vidya Vincent who guides a group of villagers and trackers in an effort to capture a tiger tigress while combating discrimination in both the workplace and the home.
Vicky Kaushal won the best actor prize for his outstanding portrayal in Sardar Udham, which tells the tale of revolutionary leader Udham Singh, who shot Michael O'Dwyer in London in retaliation for the Jallianwala Bagh massacre. Additionally, Sardar Udham won the award for the best movie among critics.
Vicky To Vidya 67th Filmfare Awards Winner Full List
1. Popular awards
Best Film: Shershaah (Dharma Productions)
Best Director: Vishnuvardhan (Shershaah)
Best Actor: Ranveer Singh (83) as Kapil Dev
Best Actress: Kriti Sanon, Mimi as Mimi Rathore
Best Supporting Actor: Pankaj Tripathi (Mimi)
Best Supporting Actress: Sai Tamhankar (Mimi)
2. Debut Awards
Best Male Debut: Ehan Bhat – 99 Songs as Jay
Best Female Debut: Sharvari Wagh – Bunty Aur Babli 2 as Sonia Rawat / Jasmine "Jazz"
Best Debut Director: Seema Pahwa – Ramprasad Ki Tehrvi
3. Writing Awards
Best Story: Abhishek Kapoor, Supratik Sen and Tushar Paranjape (Chandigarh Kare Aashiqui)
Best Screenplay: Shubendu Bhattacharya and Ritesh Shah (Sardar Udham)
Best Dialogue: Dibakar Banerjee and Varun Grover (Sandeep Aur Pinky Faraar)
4. Music Awards
Best Music Director: Tanishk Bagchi, B Praak, Jaani, Jasleen Royal, Javed-Mohsin And Vikram Montrose (Shershaah)
Best Lyricist: Kausar Munir – "Lehra Do" (83)
Best Playback Singer (Male): B Praak – "Mann Bharrya" (Shershaah)
Best Playback Singer (Female): Asees Kaur – "Raataan Lambiya" (Shershaah)
5. Critics' Awards
Best Film (Best Director): Shoojit Sircar (Sardar Udham)
Best Actor: Vicky Kaushal – Sardar Udham as Udham Singh
Best Actress: Vidya Balan – Sherni as Vidya Vincent
6. Special Awards
Filmfare Lifetime Achievement Award: Subhash Ghai
7. Technical awards
Best Editing: A. Sreekar Prasad (Shershaah)
Best Production Design: Mansi Dhruv Mehta and Dmitrii Malich (Sardar Udham)
Best Choreography: Vijay Ganguly – "Chaka Chak" (Atrangi Re)
Best Cinematography: Avik Mukhopadhyay (Sardar Udham)
Best Sound Design: Dipankar Chaki, Nihar Ranjan Samal (Sardar Udham)
Best Background Score: Shantanu Moitra (Sardar Udham)
Best Costume Design: Veera Kapur EE (Sardar Udham)
Best Action: Stefan Richter, Sunil Rodrigues (Shershaah)
Best Special Effects: VFXwaala, Edit FX Studios (Sardar Udham)
Where to watch the 2022 Filmfare Awards ceremony?
The awards presentation will be broadcast live on August 30 on Colors Cineplex and Colors. Facebook offers a live feed of the programme as well.
The performance will begin in Mumbai, Maharashtra, at 6 o'clock. You can see this six-hour production by purchasing tickets for Rs 3,500 for each person.
Conclusion
The night also saw some other deserving winners like Ranveer Singh, who won the Best Supporting Actor award for his role in Gully Boy, and Amitabh Bhattacharya, who won the Best Music and Best Lyrics awards for the film. Overall, it was a night to remember for all the right reasons!