Shark Tank India S2 fans are left disappointed with the first episode. Twitter is buzzing with Tweets about bringing back Ashneer Grover and what this stupidity is. Many people are calling the Sharks in this season insecure about their brands and investments. This uproar on social media was caused when Recode Studios, a cosmetics brand, failed to find investment from the Sharks even after pitching a great idea. Except for Peyush Bansal, all Sharks claimed that they do not want to invest in a startup which can be competition for one of the Sharks brands.
Recode Rejection by Sharks
All Sharks Peyush Bansal, Aman Gupta, Anupam Mittal, Vineeta Singh and Namita Thapar heard many pitches in the first episode of season 2. However, the pitch that got rejected despite being a great idea has left the fans furious. The sharks refused to invest in Recode Studios, a cosmetic brand that can become competition for Sugar Cosmetics, a brand that was opened by Vineeta Singh.
Vineeta Singh, the founder of Sugar Cosmetics, is being trolled on social media due to her rude behaviour with the Recode guys. She tried to mock them by saying that she had never heard of their brand. The Recode pitchers shut her up by saying that her brand Sugar Cosmetics follows their brand on Instagram.
Also read: Shark Tank India Season 2 Judges Salary Per Episode
Vineeta Singh was left stunned after hearing that Sugar Cosmetics follows Recode on Instagram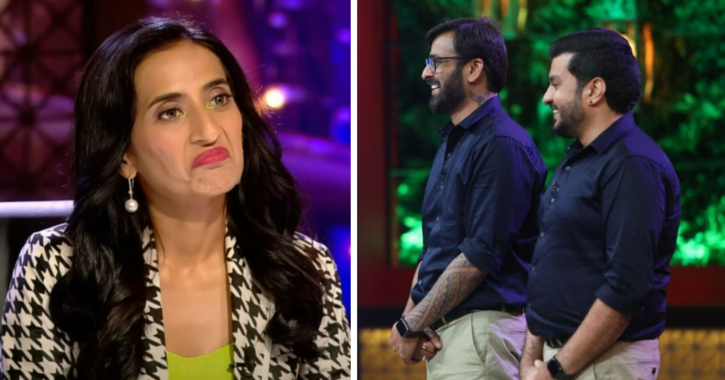 Here's how Fans are Trolling Shark Tank India 2 Judges on Social Media after Recode Incident
Yesterday RECODE definitely deserved a good investment in Shark Tank India. Its marketing strategy was bang on. Nobody could ever think the way they did. The sharks didn't invest because it could be a competition to SUGAR Cosmetics in the future.

Next level insecurity 😂@SonyTV

— Samay Ashar (@samayashar10) January 3, 2023
While Recode Studios may have a top-quality product and impressive sales, it's evident that good package design is essential for any brand's success, and the first episode of Shark Tank India Season 2 highlights this importance. #SharkTankIndiaS2

— Shubham Dutta (@shubhamverse) January 3, 2023
why have they turned shark tank season 2 into a full tv serial drama. "mein apne doston ke competition pe invest nahi karta" bhai??? y'all are an investor what is wrong w you guys?? i love how peyush went this is stupid.

— p✨ (@louisharrybrad) January 2, 2023
Disappointed with shark tank India this season, poor people who have the same line of business as any of the judges, will not get investement just because shark doesn't want to lose their friend. What kind of logic is tht?

— Kriti Nath (@kritinath1234) January 2, 2023
Shark Tank India /S2/ E1
It seems that sharks are making cartle against competitor founders.

Why not even 1 was interested in that Makeup brand Recode even after being impressed by their numbers?@amangupta0303

— Rai Chandan (@iamraichandan) January 2, 2023
Shark Tank India

Watched the pitch for RECODE brand .. #sharks people have respect for you for what you guys have done .. but what I have seen today the way #sugarcosmetics friendship club worked it doesn't gives a thumps up to the concept of raising funds.

— Abhishek bhatt (@Abhishekbhatt11) January 2, 2023
In first episode of shark tank S2, some sharks refused brand Recode in order to safeguard their relation with their friends. This denial was unfair unless it is not due to a flaw in their business model, vision
Missed @Ashneer_Grover @SonyLIV #SharkTankIndiaS2 #Entrepreneur

— Namrata Shubham Mittal (@ShubhamNamrata) January 3, 2023