Netflix, the popular streaming platform, continues to offer a diverse selection of web series for viewers to enjoy in April 2023. Whether you're in the mood for heartwarming dramas, action-packed adventures, or thrilling mysteries, there is something for everyone.
Netflix is known for producing and distributing original content, and this month is no exception. Expect to see new seasons of popular web series, along with exciting new releases. If you're a fan of thought-provoking documentaries or gripping true-crime stories, there will be plenty of options to choose from in April. For all the Netflix lovers Below is the list of 14 upcoming web series set to release in April
1) Sweet Tooth Season 2
Fans of the show were thrilled to learn that Sweet Tooth Season 2 is on its way and releasing on 27th April. The web series, Sweet Tooth, is based on a comic book by Jeff Lemire and is produced by Warner Brothers Television, DC Entertainment, and Team Downey. The second season promises to pick up where the first left off, with Gus and his companions continuing their journey across America in search of answers about their origins and the mysterious illness that ravaged the world.
2) Rough Diamonds
Netflix is all set to add another exciting web series to its Original Series roster with the upcoming premiere of 'Rough Diamonds'. The crime drama is created by Yuval Yefet, the writer of the immensely popular espionage and political thriller 'Fauda', and directed by Rotem Shamir. Unlike 'Fauda', this series is set in the diamond hub of Antwerp, Belgium, and not in Israel. The premiere of 'Rough Diamonds' is scheduled for 21st April 2023 and will be available to Netflix viewers worldwide.
3) Welcome to Eden Season 2
The eagerly awaited Welcome to Eden Season 2 is set to premiere on Netflix on 17th April 2023. This Spanish drama has already gained popularity on the streaming platform, and fans are eagerly anticipating the second season.
The series is created by Joaquín Górriz and Guillermo López and produced by Brutal Media. The filming locations include the picturesque Spanish islands of Lanzarote and San Sebastián, as well as the province of Teruel.
4) Tooth Pari: When Love Bites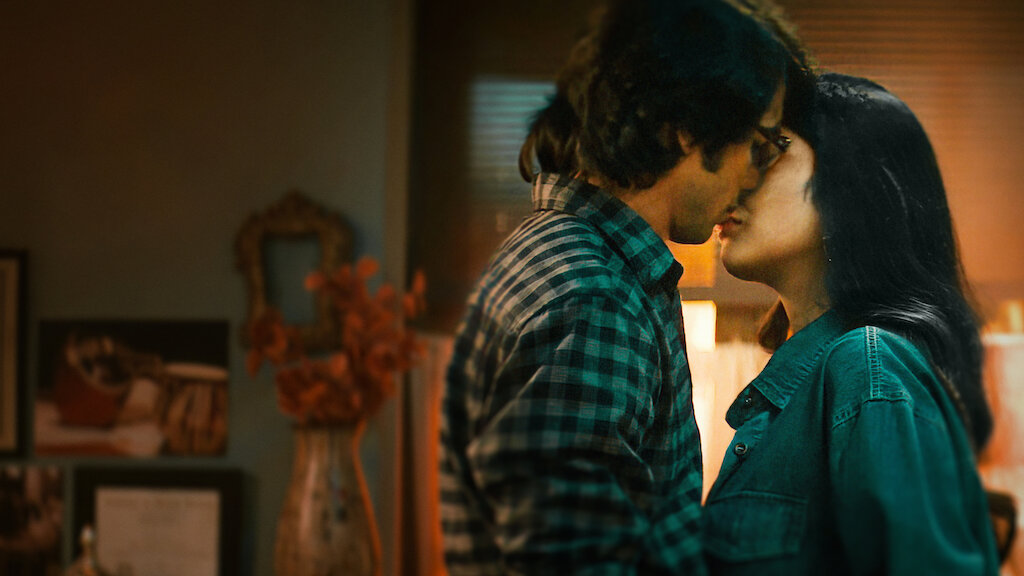 Tooth Pari: When Love Bites is one of the most anticipated romantic Indian web series coming to Netflix. The series is a romantic fantasy thriller that stars Tanya Maniktala as a beautiful vampire and Shantanu Maheshwari as a shy human dentist in Kolkata. The series follows the story of their unlikely love affair, and viewers are left to wonder whether human and mystical forces will keep them apart. This Netflix Original series is set to release on 20th April.
5) Indian Matchmaking Season 3
Indian Matchmaking, a popular reality TV show that follows the work of matchmaker Sima Taparia as she helps clients with the arranged marriage process, is returning for its third season on April 21. The show provides an interesting perspective on modern-day nuptial customs, and the new season will see Taparia assisting young single adults from various countries in their quest for a suitable partner. The show is widely anticipated by fans who are looking forward to seeing how the matchmaking process unfolds in the upcoming season. You just can't hate this show, we are sure of that.
6) The Marked Heart Season 2
Get ready for a thrilling ride as Netflix's The Marked Heart returns with its second season on 19th April 2023. The show follows the story of a man who is determined to avenge his wife's death at the hands of an organ trafficking organization. Along the way, he becomes entangled with a woman who received his wife's heart, adding a unique twist to the story.
Starring Michel Brown, Ana Lucía Domínguez, and Sebastián Martínez, the show promises to be a gripping tale of love, revenge, and justice. This is one of the highly praised Spanish web series on Netflix.
Also Read- Best Spanish Movies
7) Keeping Up with the Kardashians Season 13
Netflix has released an official description of their popular reality TV show Keeping Up with the Kardashians that provides viewers with a peek into the opulent lifestyles and personal affairs of the Kardashian-Jenner family. The show primarily follows the lives of celebrity sisters Kim, Kourtney, and Khloé as they try to balance their family obligations with their growing fame, multiple business endeavors, public relationships, and other hurdles they face in the current season. Fans can expect the usual drama, humor, and surprises that have made the show a must-watch for years.
The upcoming season of Keeping Up with the Kardashians is scheduled to premiere on April 15th, and fans are eagerly anticipating the return of their favorite reality TV stars.
8) Queenmaker
Oh Jin Suk, known for directing "My First Love," has teamed up with screenwriter Moon Ji Young, who wrote "Who Are You?," for the upcoming South Korean political drama, "Queenmaker." The series is a Netflix Original and is highly anticipated. Recently, an official teaser trailer was released, revealing that all 12 episodes of the series will be available to stream on April 14th, 2023. The show's release date has been confirmed and fans can't wait to see what this dynamic duo has in store.
9) Obsession
Obsession," a new British erotic thriller miniseries, will be released globally on Netflix on April 13, 2023. The show follows the story of a London surgeon who begins a passionate affair with his son's fiancée, leading to a dangerous obsession that could have life-changing consequences. Based on Josephine Hart's novel of the same name, the series was previously adapted into a feature film by Warner Bros. in 1992. Get ready for a steamy and suspenseful ride with "Obsession" on Netflix.
10) Seven Kings Must Die
Fans of the historical drama series, The Last Kingdom, can look forward to the release of its sequel, Seven Kings Must Die, which is set to hit Netflix on April 14th, 2023. Alexander Dreymon will reprise his role as the formidable Uhtred of Bebbanburg, who will work alongside his allies to establish a united England in the wake of King Edward's passing.
11) Florida Man
Netflix has just announced the release of its new mystery TV series, "Florida Man," which is set to premiere on 13th April 2023. The show stars Edgar Ramírez, Abbey Lee, and Anthony LaPaglia, and is created by Donald Todd. The series follows the story of a disgraced cop who is in debt and is coerced into returning to his hometown of Florida to undertake a shady mission. However, things take an unexpected turn when he becomes involved in a wild and dangerous treasure hunt that could have deadly consequences.
12) BEEF
Get ready for a new Netflix Original series, BEEF, set to release on April 6th, 2023. The show is a comedic drama series that tells the story of a road rage incident between two strangers – a struggling contractor and an unfulfilled entrepreneur. The incident sparks a feud that brings out their darkest impulses, resulting in a wild and unpredictable journey that tests the limits of their sanity. Starring Steven Yeun, Ali Wong, and Joseph Lee, this series is created by Lee Sung Jin, who promises to deliver a unique and hilarious take on the concept of a beef between two individuals. Expect plenty of laughs, drama, and unexpected twists in BEEF on Netflix.
13) The Diplomat
Coming to your favorite OTT platform on April 20th is The Diplomat, an enthralling American TV series that falls under the category of political thrillers. The show's storyline revolves around a seasoned diplomat who is appointed as the ambassador to London, leading to a series of profound implications both personally and professionally. Against this backdrop, the show's narrative is further compounded by the emergence of a global crisis that heightens the intensity and suspense of the series. Get this web series on your watch list and we can bet that you won't be disappointed.
14) War Sailor
Coming to Netflix on April 5th is the highly anticipated TV drama series, War Sailor. The show's plot follows the story of a prodigal son who plunges his family's empire into crushing debt. As a result, his estranged brother is forced to return to Antwerp's diamond district to pick up the pieces and save their family business. Starring Kevin Janssens, Ini Massez, and Robbie Cleiren, War Sailor is created by Rotem Shamir and Yuval Yefet, who have crafted a gripping storyline that is sure to keep audiences on the edge of their seats