Are you searching for Amazon Prime Subscription For Free? In addition to allowing you to stream material from Prime Video on Amazon's OTT platform, Amazon Prime also grants you access to several unique perks on the company's e-commerce website, such as free shipping and early access to sales. In India, an Amazon Prime membership costs 129 rupees per month or 999 rupees per year. With rapid and free shipping choices, Amazon Prime is a membership program that provides you with discounts and perks on the items you typically purchase from Amazon. You also receive access to Prime Insider, which keeps you informed of news and advice related to purchasing.
You can also access Amazon's entertainment offerings, including Amazon Original series, films, television programs, music, books, magazines, and more. With more than 150,000,000 paid Prime subscribers, Amazon Prime is one of the most widely used subscription services, but it's also rather pricey. However, some specific postpaid plans provided by top Indian phone providers include 1 year of free Amazon Prime membership. To get the Best Tricks And Tips To Get Amazon Prime Subscription For Free In 2022, read the article below.
Amazon Prime Plans in India
Three subscription tiers are available from Amazon for its services. The advantages provided by all three types are the same. The three plans' validity periods differ from one another. Value-wise, the yearly plan allows you to save up to 650 over the course of a year.
₹179 AMAZON PRIME MONTHLY PLAN
₹459 AMAZON PRIME QUARTERLY SUBSCRIPTION PLAN
₹1499 AMAZON PRIME YEARLY SUBSCRIPTION PLAN
Amazon Prime Subscription Benefits
Free EMI on smartphone purchases.
Amazon Prime Video offers limitless video streaming.
Unlimited, ad-free use of the Amazon Music collection.
Obtain Prime Reading.
5% bonus points while using a credit card from ICICI Bank for Prime members.
Here are the Best Tricks And Tips To Get Amazon Prime Subscription For Free In 2022
1. Plans For Charging Your Phone With Free Amount For Amazon Prime
Amazon Prime is free with a number of the prepaid plans that Airtel offers. Amazon Prime Mobile Version is enabled on a number of plans.
359- 2GB data each day, 28 days of validity, unrestricted voice calls, a free trial of the mobile edition, a three-month subscription to Apollo 24/7 Circle, and more.
699- 3GB of data per day, limitless voice calls, 56 days of validity, 100 SMS per day, a 56-day free Amazon Prime membership at a discount, Hello Tunes, and more are included for 699.
999- 2.5GB of data per day, unlimited phone calls, 84 days of validity, 100 SMS per day, 84 days of Xstream Mobile pack, 84 days of Amazon Prime, Hello tunes, Wynk Music, Xstream Premium, and more are all included in the price of 999.
2. Reliability of Jio Postpaid Plans With Amazon Prime Membership
Jio has the most postpaid options available that include a free year of Amazon Prime.
399: Unlimited voice calls, 100 SMS a day, 75GB of data, 200GB of data rollover, Netflix, Amazon Prime, Disney+ Hotstar Mobile, and Jio app bundle subscription.
500: Unlimited voice calls, one family add-on connection, 100 SMS per day, Netflix, Amazon Prime, Disney+ Hotstar Mobile, and Jio app package subscription. 599: 100GB of data per month, 200GB of data will roll over.
999: Unlimited phone conversations, three family add-on connections, 200GB of data per month, 500GB of data will roll over, Disney+ Hotstar Mobile, Disney+ Hotstar Mobile, and Jio app package subscription.
3. Everyone Can Get a Free 30-Day Trial of Amazon Prime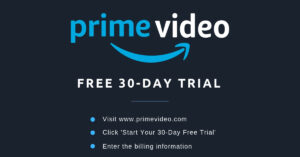 Prime is currently available for a free 30-day trial without cost! The free two-day delivery alone makes it worthwhile, but you can try out all of Prime's perks for a full month with this. You can decide if Prime is worthwhile by giving it a 30-day trial. Anytime before the 30-day free trial expires, you can cancel.
4. Avail Amazon Prime Youth Offer
As part of this offer, any customer between the age of 18 to 24 years who signs up for either of the following i.e. Annual Amazon Prime Membership or 3-Month Amazon Prime Membership or 1-Month Amazon Prime Membership and verifies her/ his age, will be provided cashback in the form of a promotional 50% Amazon Pay cashback worth up to ₹ 750.
This offer can only be availed via Amazon App.
5. Purchase Amazon for a Month and then Delete

You can cancel Amazon Prime at any time and for any reason. So let's say you don't typically shop at Amazon but you want to buy a few things for the holidays or you want to take advantage of the Prime Day specials.