GodFather starring Chiranjeevi in the lead has crossed Rs 100 Crores at the box office by collecting a huge amount. This is the total worldwide. In India, the film is not doing as well as the producers expected. It is expected that GodFather will cross Rs 150 Crores at the worldwide box office on the 5th day. It has maintained a constant level of collection throughout the weekend.
GodFather Box Office Collection Day 4 and Beyond: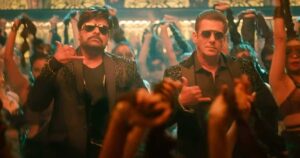 The 4th-day collection of GodFather at the Indian box office is Rs 10.54 Crores. It has taken the total collection of the film to Rs 64.54 Crores in the domestic circuit. The film earned Rs 6.5 Crores from Andhra Pradesh and Telangana while the Hindi version of the movie managed to rake in Rs 1.3 Crores. The exact numbers for the overseas collection for the 4th day at the box office are yet to be revealed for GodFather.
The action-drama features Megastar Chiranjeevi, Nayanthara and Salman Khan in a cameo roles. A lot of buzzes has been created in North India due to Salman's inclusion as the younger brother of Chiranjeevi in the movie. We are expecting the film to cross the mark of Rs 75 Crores at the Indian box office on the 5th day.