Ullu web series cast includes Priya Gamre, Jinnie Jaaz, Rajsi Verma, Manvi Chugh, Sanni Singh, Bharti Jha, Anupriya Goenka and many other females. These cast members have led many hot Ullu web series that has become a huge hit. The Ullu web series cast is searched by thousands of people on Google due to the content that these cast members have brought on the Ullu app. This article lists the cast of some of the most popular Ullu web series like Charmsukh, Riti Riwaj, Rikshawala and more.
Ullu Web Series Cast With Photo List
1- Rikshawala Web Series Cast
Manvi Chugh (Nisha),
Dhiraj Kumar Rai (Kundan),
Jinnie Jaaz (Shikha),
Abhinav Raja (Romli)
Rikshawala Story: Shikha's life is turned upside down when Kundan blackmails her and physically exploits her. While Shikha intends to marry Nisha to her boyfriend and inherit all of the property, Kundan has other plans for the wedding day!
2- Rain Basera Ullu Web Series Cast
Bharti Jha (Deepa),
Hiral Radadiya (Urmi),
Kailash Vyas ( Surmesh ),
Litesh Pawar ( Rohan ),
Raj Kapoor (Raju)
Rain Basera Story: Deepa and Rohan's love and fear grow stronger, as does their fear of Surmesh discovering their illicit affair. Deepa intends to flee to the city with Rohan and elope. Will her actions, however, determine her fate, or will she be abandoned by her own luck? The Ullu web series cast has made this show very interesting.
3- Malai Web Series Cast
Ankita Singh (Renu),
Sahil Tyagi (Mama Ji),
Shayna Khatri (Shilpa),
Lucky Saini (Rahul)
Malai Web Series Story: Renu Bhabhi begins stealing her brother-in-law's phone on a daily basis after obtaining it, but the brother-in-law eventually discovers this mischief and devises an impish plan to fulfil her long-held fantasy of romancing Renu. Will his scheme succeed, or is Renu Bhabhi too astute to outwit her iniquitous brother-in-law?
4- Secretary Ullu Web Series Cast
Payal Patil (Secretary Renu),
Rohit Nigan (Ajay),
Prince (Vinod),
Ali Shaikh (CEO Mishra)
Secretary Story: The guilty pleasure of Ajay and Vinod consists of Vinod every night, narrating a new sexual encounter between his boss and her secretary. This leads to Ajay's heightened fantasies about the secretary, and he requests Vinod to set up a meeting with her. Little does he know what fate awaits him and what the future beholds in the form of the secretary! The Ullu web series cast has made this series more engaging and interesting.
5- Khidki Web Series Cast
Ruks (Girl 1),
Farhan Ansari (Boy),
Jayshree Gaikwad (Pushpa),
Neha Gupta (Riya)
Khidki Story: Ullu web series cast of Khidki is one of the hottest and sexiest. The smouldering libido between the boss and secretary continues to spread wildfire, which relentlessly rallies its way through various couples, and the game of sneak peek through the cracks and windows paves the way to people infuriated by the voyeurism in them!
6- Charmsukh Jane Anjane Mein 6 Ullu Web Series Cast
Jinnie Jaaz (Chandni),
Dev Dehman (Jeth Ji),
Anmol Jain (Husband),
Gaurav Rajput (Suresh)
Charmsukh Jane Anjane Mein Story: Every night, Chandni's brother-in-law pretends to sleepwalk and invades her personal space. Chandini secretly enjoys this, and she intends to take advantage of the situation. In this devious yet lustful house of lies, everyone is playing dumb and hard to get!
7- I Love You Web Series Cast
Neet Sharma (Janhvi),
Nikhil Parmar (Suraj),
Vishal Bhatt (Aakash),
Poonam Rajput (Prabha)
I Love You Story: The Ullu web series cast has made this bold Ullu web series interesting. When the love of his life, Natasha, goes out with his best friend, Suraj, Aakash is heartbroken. Suraj's sister, Prabha, and Suraj's mother, Sulekha, both fall for Aakash, and he is left oscillating between the two.
8- Kavita Bhabhi Web Series Cast
Kavita Radheshyam (Kavita),
Nishant Pandey (Karan, Ajay, Varun, Avinash),
Amita Nangia (Mother-In-Law),
Divya Dwivedi (Rashmi, Aarti)
Kavita Bhabhi Story: Amazingly seductive bhabhi, pleading with people over the phone. She tells customers make-out stories in a very romantic manner and charges them a reasonable fee. Kavita Bhabhi, watch a story full of lovely stories.
9- Riti Riwaj Water Wives Web Series Cast
Sanni Singh (Shanta),
Payal (Beena),
Ankita Bhattacharya (Maya),
Yugant Pandey (Bhagat Ram),
Vipul Gupta (Prakash)
Riti Riwaj Water Wives Story: While rural India continues to face water scarcity, men are marrying multiple times in order to gather more water for themselves. Watch Riti Riwaj's "Water Wives" to find out if it's a lack of water or a thirst for desires that is masking this unusual tradition. Ullu web series cast of Riti Riwaj Water Wives is hot, bold and sexy.
10- Auction Ullu Web Series Cast
Samikssha Bhatnagar,
Preeti Goswami,
Shivanya Mehra,
Niharika Choukesey,
Palash Dutta,
Vijay Badlani,
Shiva Rindani
Auction Story: A tradition of selling teenagers' virginity at a high price to popular white collars. Unfortunately, the company is owned by a woman who is cruel enough to slit anyone's throat. Her extensive network facilitates the easy acquisition of virgin girls for auction. But, as we all know, there is always a rebel out for vengeance. Auction is a reality check on an underground business.
11- Client No. 7 Web Series Cast
Ashmit Patel (Inspector Pratap Singh),
Leena Jumani (Moni),
Sumit Manak (Raman),
Parvesh Kumar (Landlord)
Client No. 7 Story: The Ullu web series cast, including Leena Jumani, will surely make you feel excited. A dutiful police officer arrives at a lonely bungalow after responding to an emergency call from a charming woman named Moni. She describes how she killed her boyfriend in self-defence, and the officer is immediately drawn to her innocence and persona. But is Moni's story true, or is the officer just another client in "Client No. 7?"
12- Jabran Ullu Web Series Cast
Jatin Bhatia (Sumer),
Mahi Khan (Maya),
Prashant Pandit (Aadarsh),
Donna Munshi (Shalini)
Jabran Story: Sumaer and Shalini's marriage is precariously balanced because they have opposing sexual preferences. Sumaer devises a devious plan in order to fill this void in their sex life. What he does not anticipate is how he will become entangled in his own deception!
13- Teekhi Chutney Web Series Cast
Noor Malabika (Jenny),
Sharad Ghore (Mr. Chauhan),
Saurabh Rana (Aditya),
Vandana Mittal (Mrs Chauhan)
Teekhi Chutney Story: Noor Malabika is sensational as the Ullu web series cast. Aditya, full of adventure, plans a road trip to his hometown with his girlfriend, Jenny. Aditya has an urgent business matter that requires him to leave his house, leaving Jenny alone with his parents. Randhir, Aditya's father, appears to fill Jenny's romantic void in the absence of Aditya.
14- Charmsukh Bidaai Ullu Web Series Cast
Pihu Kanojia (Chameli),
Dhiraj Kumar Rai (Genda),
Pihu Jaiswal (Lajjo),
Jayashri Gaikwad (Bindiya)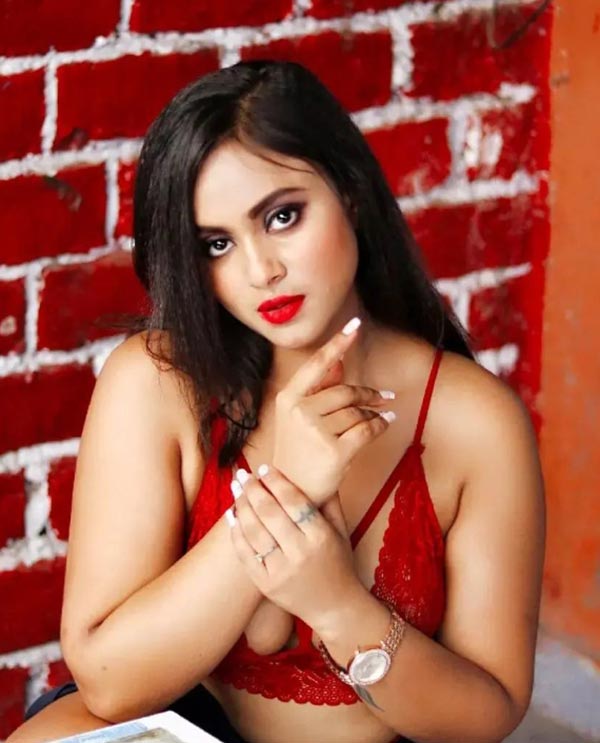 Charmsukh Bidaai Story: Genda is taken aback when his wife Chameli refuses to return home and makes the claim that Genda is impotent. The plot twist occurs when Genda succumbs to everyone's sexual desires except her wife, who is adamant about not reconciling. The pursuit of a lost love propels the journey of madness through sexual terrain that even Genda could not have predicted.
15- Sultan Web Series Cast
Manraj Singh (Deepu),
Shiny Dixit (Binni),
Shakti Singh (Pradhan)
Hetal Yadav (Kamlavti),
Shiwani Gossain (Sarbati),
Yujvendra Singh (Kamlesh),
Ashutosh Singh (Genda Singh)
Sultan Story: Sultan is a celebrity buffalo who is the talk of the town and adored by his family due to his extraordinary virility. Deepu, the family's good-for-nothing single child who always lurks in Sultan's shadow, is the one who despises Sultan.
16- Lady Finger Ullu Web Series Cast
Aayushi Jaiswal (Divya),
Mahi Kaur (Janhvi),
Pallavi Debnath (Rani),
Peeyush Suhaney (Dev)
Lady Finger Story: Sarla's suspicions are confirmed when Jhanvi discovers that Dev is indeed cheating on his wife, Sarla. Instead of reporting it to Sarla, Jhanvi confronts Dev about it and begins hatching a larger plan. Things take a devious turn when Jhanvi falls for Sarla while spying on her husband, causing havoc in the lives of everyone involved. Aayushi Jaiswal has stunned everyone as the Ullu web series cast in this show.
17- Walkman Ullu Web Series Cast
Ridhima Tiwari (Roshni),
Kasim (Manoj),
Dheeraj (Chandan),
Komal Sharma (Daya Bhabhi),
Ayushi Jaiswal (Sunita)
Walkman Story: Roshini, a newlywed, is disheartened when her dreams and ambitions are dashed, both on and off the bed. Roshini, by chance, obtains a few tapes containing venereal tales. This becomes a source of colour in her otherwise monochromatic life, and it sends Roshini on a roller coaster of fun and exciting sensual adventures! It is the best web series of this Ullu web series cast.
18- Shahad Web Series Cast
Priya Gamre (Roopa),
Varun Saggar (Raghu),
Prashant Rai (Sharad),
Manju Agarwal (Maa)
Shahad Web Series Story: Roopa discovers Sharad's hidden desires, putting them both in a bind. Sharad's sexuality overpowers his guilt as he attempts to entice Roopa into a sexual moment. As she slithers through her emotions, Roopa's morality withers. What follows is a battle between the heart and the mind, in which the heart eventually gets what it wants.
19- Palang Tod Siskiyaan Ullu Web Series Cast
Tarakesh Chauhan (Sasur),
Noor Malabika (Renu),
Shivkant Lakhan Pal (Husband),
Sohil Shaikh (Chotu),
Rajesh Yadav (Anil)
Palang Tod Siskiyaan Story: Renu is an unhappy wife who seeks sexual liberation not through her husband, but through her semi-paralyzed father-in-law. Now she must deal with the cacophony that has rocked her world, and her libido will not let her escape.
20- Titliyaan Web Series Cast
Tanya Chatterji (Tanya),
Vanya Singh Rajput (Sophia),
Peeyush Suhane (Pratik),
Gautam Handa (Jimmy),
Suhana Khan (Shruti)
Titliyaan Story: Tanya's story of enslavement and oppression continues, as Prateek now has his sights set on Sophia. Tanya and Sophia are drawn together by their search for freedom in such a confined universe. But, in a world full of predators, will the journey of two beautiful butterflies be successful? The Ullu web series cast has delivered a tremendous performance in this series.
21- Matki Ullu Web Series Cast
Priya Gamre (Bindu),
Palak Singh (Mitali),
Bhanu Surya (Mohan),
Ankita Bhattacharya (Naukrani)
Matki Story: Now that the curtains of desire have been lifted between Bindu Chachi and Mohan, Bindu is aware of Mohan's feelings for her. The plot thickens when Bindu realizes she shares the same feelings for Mohan. In the midst of all of this, Mohan is torn between whether his desires with Bindu chachi will be realized or whether his fantasy will remain unfulfilled.
22- Gaachi Web Series Cast
Veeir Chaudary (Vikram),
Prajakta Dusane (Shalini),
Lokesh Tilak (Virender),
Garima Jain (Divya),
Ankita Dave (Ratna),
Priya Gamre (Maya)
Gaachi Story: Shalini marries and relocates to a village where women face male chauvinism and marital abuse. She meets Divya, Ratna, and Maya here. They decide to fight for their rights and dignity against social norms and injustice in a place where men would rather kill them than respect them. This Ullu web series cast is among the most searched on Google.
23- Honey Trap Ullu Web Series Cast
Hiral Radahiya (Vinita),
Ankush Kalyan (Saurav),
Nesha Gupta (Sharadha),
Imran Amir Shaikh (Nitin)
Honey Trap Story: Vinita's life is turned upside down when her magical honey jar breaks. Vinita is left in shambles when the magic in her life fades, as her charm fades and her life returns to the ruins that it once was. Vinita is now on a mission to reclaim the magical glory of love that she once held!
24- Devrani Jethani Aur Woh Ullu Web Series Cast
Pihu Kanojia (Guncha)
Jayshri Gaikwad (Malti)
Jaspreet Gera (Sarju)
Gaurav Rajput (Suresh)
Devrani Jethani Aur Woh Story: Sarju is a happy-go-lucky village casanova who gets himself into trouble when he becomes involved with both daughters-in-law from the same house. When both Guncha and Malti pursue Sarju to elope, the plot thickens. Sarju must now find a way out of this double bind before it's too late.
This concludes our list of the Ullu web series cast. We will keep updating the list, so make sure to check this out every week or so.