Mrs Undercover is a Hindi language thriller comedy web series starring Radhika Apte that is soon going to release on the digital streaming platform ZEE5. The movie is directed by Anushree Mehta and produced by Abir Sengupta, Anushree Mehta, Varun Bajaj, Ishan Saksena and Sunil Shah. Here we have covered everything you need to know about Mrs Undercover release date on ZEE5, cast, story, trailer and more.
Mrs Undercover Release Date on ZEE5
Mrs Undercover will release on 14th April 2023 on ZEE5. After the first wave of the Covid pandemic in India, the movie was announced in March 2021. They began shooting in Kolkata in the midst of the second wave in 2021. Sumeet Vyas, an actor, reportedly contracted COVID-19 while working on the movie.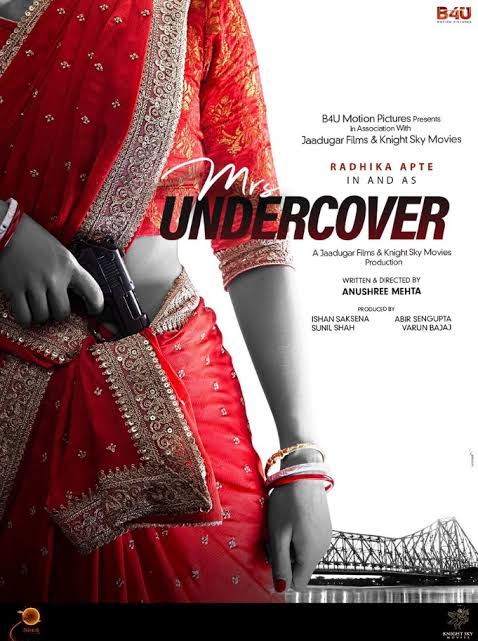 Mrs Undercover Cast
Radhika Apte as Durga
Rajesh Sharma as Chief Rangeela
Sumeet Vyas as The Common Man
Angana Roy as kajal
Laboni Sarkar as Durga's mother in law
Satish Badal as special force cab driver
Amrita Chattopadhyay as Priyanka
Indrasish Roy as Aditya
Biswajit Chakraborty as Durga's father in law
Roshini Bhattacharya as Aisha
Saheb Chatterjee as Durga's husband
Also read: Maidaan Release Date
Mrs Undercover Story
After ten years of working as a housewife known as Durga, Radhika Apte plays a spy who is suddenly hired. She stayed true to her disguise for ten years, remaining a loving housewife married to a patriarchal husband and almost forgetting she was an undercover spy.
Mrs Undercover Trailer
ZEE5 Mrs Undercover FAQs
1- What is the release date of Mrs Undercover on ZEE5?
Mrs Undercover will release on 14th April 2023 on ZEE5.
2- Who has directed Mrs Undercover?
Anushree Mehta has directed Mrs Undercover.
3- Will Mrs Undercover release in the theatres?
No, it will be released directly on the OTT platform ZEE5.