We witnessed the hustle and bustle of the wedding season last year and we are about to witness them again in the upcoming months. Wherever you look, you can see men and women flocking to showrooms to get hold of different ensembles and matching wardrobe accessories. Women, especially, these days are giving in to the latest fad of sporting rose gold watches that can suit their taste and sense of aesthetics. Watches are wardrobe essentials that must be incorporated into your ensemble to give it the ultimate finishing touch and if it is a rose gold watch, you don't have to think much. Rose gold watches, indeed, have turned into a fashion game-changer. It helps you achieve that right amount of self-assurance and makes you look like a million dollars and that makes it critical to invest in a rose gold watch. It may not be necessarily for the wedding season, since you can sport one on any important event.
If you are wondering as to how a rose gold watch can add that much-needed twist to your persona, you must understand that they are not just desirable time-keeping devices, they also double up as elegant pieces of jewellery that women love to flaunt. Besides, rose gold watch pieces strike that perfect balance between fashion quotient and performance. They look more composed and put-together regardless of which or event you wear them or which time of the day you wear them. They can give a dramatic twist to the most basic outfits and convert them into majestic-looking ensembles anytime. You can simply elevate your oomph quotient by several notches by incorporating rose gold watch pieces. Interesting enough? Well, for your ease and comfort, we have carefully put together a list of rose gold watch pieces so you can make a decision seamlessly. Let us explore them now –
The Rouge Elegance
As a wardrobe staple, you can bank upon this rose gold watch for any event, at any point of the day. This rose gold watch piece can elevate your persona and give it a classy, lively and playful look. Therefore, you must opt for this high-definition watch piece to give your personality the most effortless makeover possible.
The Raga Delight
When it comes this a rose gold watch piece like this, you can, almost, blindly rely on it and pair it up with an ensemble you can sport at a wedding event. This is because this rose gold watch can make your outfit stand out regardless of your skin tone. The watch adapts to the ensemble, style, and makeup you choose to flaunt with it. So, go for it and give the style a pop of highlight.
The Inspirer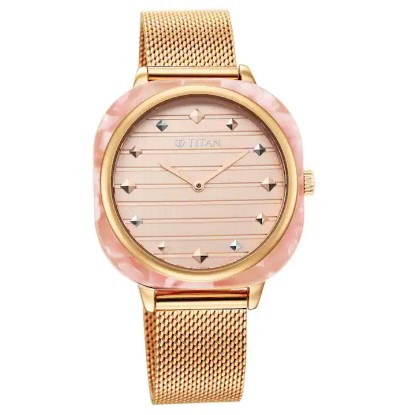 Regardless of which styles are currently trending, you can always go for a rose gold watch like this that can turn out to be a real inspiration for women of all age groups. This kind of watch can be easily relied upon for a style statement and take your fashion quotient to the next level. So, bring out your inner diva.
The Rosy Damsel
Who doesn't like to make their style noticed? Regardless of whether you are a celebrity or not, you would love being wooed by the paparazzi and this rose gold watch piece ensures that. It ensures that your personality gets noticed and you get clicked from every possible angle. Not only does it compliment your ensemble, but this also rose gold watch piece ensures you always look like your quintessential self.
If you have surveyed these above mentioned rose gold watch pieces and likes them, you must already have comprehended how important rose gold watches can be for your ensemble this upcoming wedding season. So, make no compromise and choose the best of rose gold watch pieces from this list. You can also look up online for more options but make sure you buy from reliable and trustworthy brands such as Titan, Fastrack and Sonata that offer high-quality designs and excellent watchmaship.