The world of motorcycle auctions is not just reserved for four-wheeled vehicles; it also encompasses some extraordinary two-wheeled marvels that have fetched jaw-dropping prices. From vintage classics to cutting-edge racing bikes, here is an introduction to the 15 most expensive bikes sold at an auction.
These motorcycles combine exquisite design, cutting-edge technology, and a rich heritage, captivating the hearts of collectors and enthusiasts alike. Each sale represents a unique blend of mechanical mastery, artistic expression, and the allure of owning a rare piece of motorcycle history.
Expensive Bikes Sold at an Auction
1. 1951 Vincent Black Lightning
Setting a record for the highest price paid for a motorcycle at auction, this legendary bike fetched a staggering $929,000 in 2018. With its racing pedigree and limited production, the Vincent Black Lightning remains an object of desire among collectors.
2. 1915 Cyclone Board Track Racer
This vintage board track racer commanded $852,500 in 2015, representing a remarkable piece of motorcycling history. Known for its exceptional speed and iconic design, the Cyclone Board Track Racer holds a special place in the hearts of enthusiasts.
3. 1954 AJS E95 "Porcupine"
Acquired for $852,512 in 2011, this ultra-rare racing motorcycle is considered a true gem. With only four units ever built, the AJS E95 Porcupine's unique design and competitive achievements make it highly sought-after by collectors.
4. 1929 Brough Superior SS100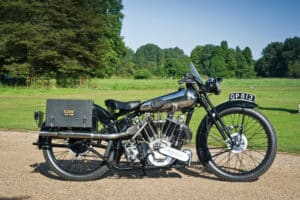 Selling for $463,847 in 2012, this classic British motorcycle is synonymous with luxury and performance. Renowned for its exceptional craftsmanship and thrilling speed, the Brough Superior SS100 continues to captivate motorcycle aficionados.
5. 1907 Harley-Davidson Strap Tank
Commanding $450,000 in 2015, this vintage Harley-Davidson stands as a rare and significant model. With its distinct strap tank design and historical importance, it represents a prized possession among motorcycle enthusiasts.
6. 1949 Vincent Black Shadow
Acquired for $434,000 in 2014, the Vincent Black Shadow exemplifies the timeless allure of classic motorcycles. Renowned for its sleek design and powerful performance, it remains an iconic symbol of British motorcycling.
Recommended: 15 Most Expensive Cars Sold at an Auction
7. 1922 Brough Superior SS80
This vintage British motorcycle sold for $425,943 in 2018. Revered for its luxurious features and superb performance, the Brough Superior SS80 exemplifies the pinnacle of motorcycle craftsmanship.
8. 1928 Indian Big Chief
Selling for $423,500 in 2019, this vintage Indian motorcycle is an iconic representation of American motorcycling heritage. With its powerful engine, elegant design, and historical significance, it is a highly coveted collector's item.
9. 1954 BMW Rennsport RS 54 Sidecar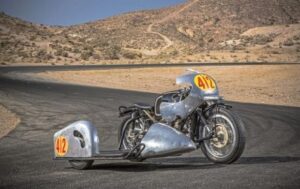 Acquired for $413,000 in 2013, this rare BMW sidecar racing outfit showcases German engineering and innovation. With its racing pedigree and distinctive design, it holds a special place among motorcycle enthusiasts.
10. 1939 Crocker Small Tank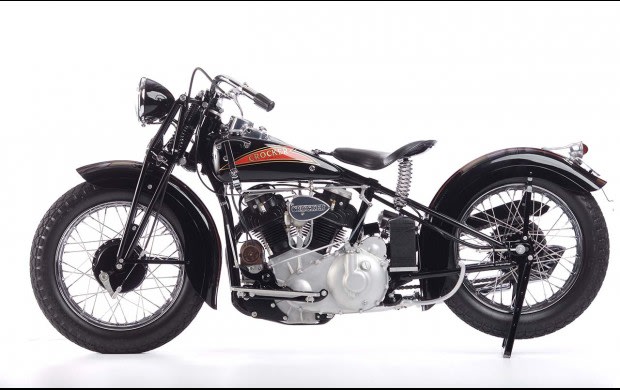 Commanding $385,000 in 2015, this American-made motorcycle captures attention with its blend of power and style. Notable for its unique aesthetics and limited production, the Crocker Small Tank is a prized possession for collectors.
11. 1939 BMW RS255 Kompressor
Selling for $480,000 in 2013, this rare German racing motorcycle boasts a supercharged engine and a rich history of racing success. The BMW RS255 Kompressor stands as a highly sought-after bike, combining exceptional performance with a legendary reputation.
12. 1929 Harley-Davidson 750cc Peashooter Board Track Racer
Sold for $297,000 in 2015, this vintage Harley-Davidson racer harks back to the early days of American motorcycling. With its unique board track racing heritage and stunning design, it is a true testament to the golden era of motorcycling.
13. 1910 Winchester Motorcycle
Acquired for $225,500 in 2013, this vintage American motorcycle represents a fascinating fusion of firearms manufacturer Winchester with motorcycle engineering. It's rarity and historical significance make it a prized collectible among enthusiasts.
14. 1909 Pierce Four
Commanding $225,500 in 2018, this antique American motorcycle showcases the early ingenuity of motorcycle design. With its four-cylinder engine and elegant aesthetics, the Pierce Four stands as a symbol of innovation and craftsmanship.
15. 1937 Crocker Small Tank
Selling for $302,500 in 2014, this iconic American motorcycle captures attention with its powerful engine and distinctive appearance. The Crocker Small Tank holds a significant place in motorcycle history and remains a highly sought-after vintage bike.
These 15 motorcycles epitomize the finest examples of two-wheeled engineering, design, and historical importance. Through their rarity, racing pedigree, and exquisite craftsmanship, they have commanded extraordinary prices at auction, captivating the hearts of collectors and enthusiasts worldwide. These motorcycles are not only valuable assets but also cherished pieces of motorcycle history, representing the passion and artistry that define the world of motorcycling.