Illuminate your home with warmth and elegance using these 15 stunning Diya decoration ideas. Diyas, traditional Indian oil lamps, have transcended their practical purpose to become exquisite pieces of art.
Whether you're celebrating a festival or simply enhancing your home's ambience, these creative Diya decoration ideas will inspire you to infuse your living spaces with a touch of timeless beauty and cultural charm.
15 Most Beautiful Diya Decoration Ideas for Your Home
1.Terracotta Diya Wall Art
Terracotta diyas can be turned into a lovely piece of wall art because of its rustic appeal. Place them on a canvas or wooden basis in a circular or symmetrical design. For a rustic appearance, leave them in their natural terracotta colour or paint them in bright colours. In addition to adding a classic flavour to your home, this diya wall art will also create an eye-catching focus point.
2. Floating Diya Centerpiece
By putting floating diyas in a glass bowl filled with water, you can create a peaceful atmosphere in your living room or dining area. To improve the aesthetics, you can add coloured stones or flower petals. Your room will feel serene due to the soft flickering of the candles on the water's surface.
3. Rangoli Diya Arrangement
During festivals, rangolis are a well-liked traditional ornament. By putting small, vibrant diyas in the middle of your rangoli design, you can combine the elegance of rangoli with the allure of diyas. This blending of artistic mediums will give your house a lively, welcoming appearance.
4. Hanging Diya Chandelier
looking for Diya Decoration Ideas? By dangling your diyas from a wooden or metal frame, you may create a gorgeous chandelier. You can create a spectacular and imaginative lighting fixture for your living room or garden by hanging the diyas at various heights from coloured threads or beads.
5. Diya Garden Pathway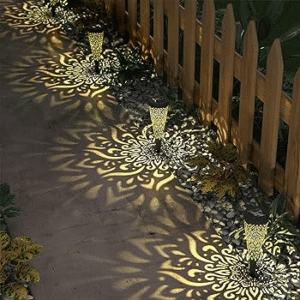 By placing beautiful diyas along the pathways, you may turn your garden into an enchanted place. They look lovely and ethereal at night when placed in tiny earthen pots or just on the ground. Your outside space will be ideal for events thanks to the soothing glow of these diyas.
6. Diya Decorated Mirrors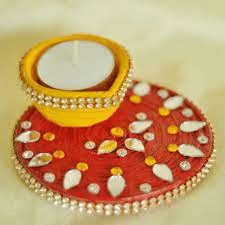 Mirrors that have been DIY-decorated can add a sense of beauty to your house. Small diyas can be placed around a mirror's frame or even glued straight to the surface of the mirror using a strong adhesive. These diyas will reflect their warm glow when ignited, producing an alluring impression.
Recommended 15 Best Diwali Gifts for Friends and Family
7. Diya Rangoli on Tablecloth
Use vibrant rice or sand to make a rangoli pattern on your tablecloth for a complex and transient diya décor. In the rangoli design, place tiny diyas in strategic locations. Your dining table will appear festive and welcoming with this arrangement, making it ideal for special occasions.
8. Diya Terrariums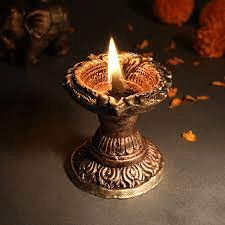 A fashionable method to add greenery to your home's decor is through terrariums. Small diyas can be incorporated into your terrariums to enhance their aesthetic appeal. A captivating display will result from the blending of the outdoors with the cosy light of diyas.
9. Diya Wall Sconces
Give your walls a touch of traditional elegance with Diya wall sconces. Mount decorative wall brackets and place diyas on them. These sconces can be placed in the living room, hallway, or even in your outdoor space to create a warm and welcoming ambience. It is one of the best Diya Decoration Ideas for Your Home.
10. Diya-Adorned Pillar Candles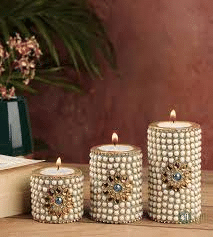 Place little diyas all around the bases of the pillar candles to combine the appeal of both types of candles. This arrangement, which offers illumination and a lovely visual appeal, can be used as a centrepiece on your coffee table or dining table.
11. Diya String Lights
Homes are frequently decorated with string lights, especially during festivals. Add a few tiny, vibrant diyas to your string lights for a distinctive and striking accent. To create a cosy and festive ambience, hang them from windows, balconies, or walls.
12. Diya Lanterns
Create your own diya lanterns by using intricately patterned metal or glass containers. Hang these from hooks or trees in your balcony or garden with a tealight inside. These lanterns will produce stunning light patterns that will evoke a mystical ambience.
13. Diya Candle Holders
By inserting tiny diyas inside regular candle holders, you may transform them into diya candle holders. Candlelight and diyas together will produce a warm and welcoming atmosphere. These can be used as part of your general design or on your dining table or mantel.
14. Diya Flower Pots
By putting little diyas within your flower pots, you may combine the beauty of flowers with the brightness of the candle. Your yard or balcony will get a little more appeal from this creative decorating concept. It's ideal for quiet times of thought or evening gatherings.
15. Diya Rangoli on the Ceiling
Make a diya rangoli on your ceiling for a genuinely one-of-a-kind and eye-catching décor. Create elaborate patterns on your ceiling by using vibrant paints and tiny hanging diyas. This ceiling decoration will turn your house into a palace when it is lit, escorting you to a realm of grace and beauty.