Winter is at its peak in India, and people have to use room heaters even when they don't want to due to the high electricity consumption of these devices. Climate change has severely affected the weather in India, and the freezing weather in winter is getting too much to handle. Now, the old ways of lighting a bonfire to fight off the cold weather should not be used anymore as it causes more pollution, which will end up in greater climate change and, ultimately, more freezing weather in winter in India. In this weather, the power saving heaters can be your best friend. The energy-efficient room heaters available in the market or online can help you fight winter without wasting too much of your money on electricity consumption.
Below are some of the best power saving heaters that you can find right now in India.
1. Usha HH3503H 1200 Watts Halogen Room Heater
This halogen room heater can cover an area of up to 150 sq. ft. It consumes very less power as the three 242mm halogen tubes in this heater instantly and effectively radiate heat. The bright halogen tubes also work as a good source of light, and the compact design makes this heater easily portable. Certainly, one of the most energy-efficient and power-saving heaters in India to buy right now.
Price- Rs 3,650
2. Xtreme H1 Infrared Room Heater
Even though it's a bit expensive, this room heater is included in this list cause it will make you save a lot of money over the years due to its highly energy-efficient nature. It provides even heat, fast heating, and good heat conductance. You can focus the heat on certain areas with the use of a radiant range in this heater. It produces no noise, no wind, no smell, no light & no dust. It exudes a very low amount of carbon and is one of the most eco-friendly heaters in India. Moreover, the far infra rays disinfection antiseptic effect in this room heater cleanse the indoor air.
Price- Rs 27,000
3. Borosil Volcano 11 Fin Room Heater
2900 W of power for quick and effective heating makes it one of the best power saving heaters in India. The energy-efficient room heater operates noiselessly and is fitted with wheels which makes it easily portable. There is an in-built PC fan heater to help spread the warmth.
Price- Rs 8,745
4. Usha Quartz QH 3002 Tube-based Heater
Usha heaters are known for their low power consumption and high affordability, and this Quartz heater is no different. It has two quartz tube heating elements, making it highly energy efficient as it heats up a room very quickly. The heater is easily portable due to its compact design.
Price- Rs 1,199
5. Lifelong 1200 Watts Halogen Room Heater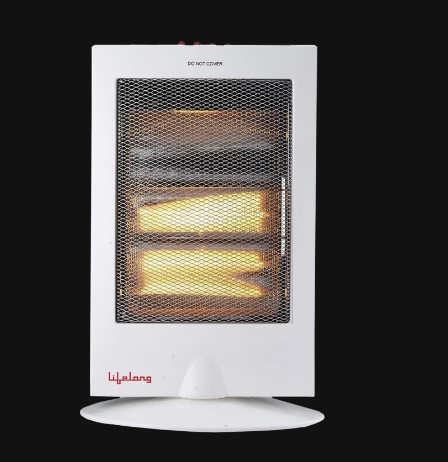 When it comes to being energy efficient, halogen room heaters are at the top. This Lifelong heater has 3 heat settings, an ABS plastic body for cool-touch operation and an SS reflector function to radiate the heat evenly in space. The adjustable thermostat feature in this room heater turns off the device when it gets too hot. Therefore, it's surely among the best power saving heaters in India.
Price- Rs 1,699
6. Orient Electric 1200 W Dura Hot Halogen Room Heater
Just like the Lifelong heater, this Orient electric halogen room heater has an automatic shut-off feature, which will help you save money and power. The energy-efficient heater has three different modes and an ABS body for good aesthetics and safety. It is equipped with a 90-degree rotation to ensure even heat distribution in the entire room. Moreover, it's highly affordable, which makes us include it in the list of best power saving heaters in India to buy.
Price- Rs 2,290
7. Orpat Climate Control – Carbon Heater – OCH-1460
Automatic shut off and four heat setting system-550W/ 1100W/ 1650W/ 2200W have made this heater highly energy efficient. High-quality carbon fiber tube heating element, safety tip-over switch for protection against tilting, caster wheels for easy mobility, rust-proof long, life metal body, safety mesh grill, portable due to the presence of handle, higher energy efficiency & power on indicator are some of the features that you will get with this power saving heater.
Price- Rs 4,200