The online casino industry is rapidly growing with a plethora of casino apps giving out real money to the players who participate in their games but there is a certain old section of the society which still loves to play at real casinos. And there is no place better than Goa in India to experience the best of casino vibes. The tension that gushed through your brain and the exhilaration that you get when you are live at a real casino and riding high on exciting and unpredictable casino games is a feeling that you won't ever forget. There are still a lot of folks who thrive on this tension and rush of adrenaline. Casino is both a boon and a bane but it's a thing that will stay till the end of times. For those who have no fear and wish to play with their hearts and pockets out, the casinos in Goa, India present a perfect opportunity. Moreover, Goa attracts thousands of international tourists every year and you could get a chance to take on the casino lovers from all parts of the world. So what are you waiting for? Here is the list of best casinos in Goa, India that will make you forget about the online casino apps.
Deltin Royale Casino
Strike By Big Daddy Casino
Maharajah Casino by Big Daddy
Casino Pride
Casino Palms
Casino Paradise
Las Vegas Casino
Dunes – The Casino
Deltin Jaqk
Deltin Caravela Casino
10 Best Casinos in Goa, India in 2023 | List of Top Casinos
1- Deltin Royale Casino
This place, also referred to as Casino Royale, is famous for its resemblance to Las Vegas. It offers various rooms like the Royale Poker room and games like American Roulette, Indian Flush, Blackjack, and Baccarat. You can also find slot machines and a Money Wheel here. Indulge in a wide range of cuisines, live entertainment, and delicious drinks. They even provide VIP Gaming Suite options for those who want to stay longer. Experience this offshore casino as it sails on the Mandovi River. Deltin Royale Casino is people's choice and definitely one of the best casinos in Goa India. The experience of this casino is unparalleled and cannot be matched by an online casino app.
Location: Noah's Ark, RND Jetty, Dayanand Bandodkar Road, Panaji
Entry Fee: Rs 2000 on Monday to Thursday and Rs 3000 on Weekend
Timings: Open 24*7
2- Strike by Big Daddy Casino
Another exciting Goa casino that easily trumps online casinos, Strike by Big Daddy is a must visit place. With state-of-the-art equipment, this remarkable casino boasts 20 gaming tables that promise an unforgettable gaming adventure. From the thrill of rolling the dice to the excitement of the game, Strike offers an unmatched gaming experience. And when the gaming excitement concludes, immerse yourself in top-tier in-house entertainment featuring Bollywood and International performances. Indulge in exquisite dining at "Cilantro" raise your spirits at "Talli Tequila," or unwind at "Hazoor," the heavenly hookah bar. Strike by Big Daddy Casino is where extraordinary gaming and premium leisure strike together.
Location: Block No.4 North Wing at Grand Hyatt, P.O, Goa University, Bambolim, Goa 403201
Entry Fee: Rs 2000 on Monday to Thursday and Rs 2500 on Weekend
Timings: Open 24*7
3- Maharajah Casino by Big Daddy
Known locally as Big Daddy, the Maharajah Casino is among the newest offshore casinos in Goa. Launched in May 2019, it swiftly emerged as a formidable contender to Deltin Royale. The establishment boasts three tiers of gaming sections, replete with 110 tables and 900 gaming stations. Accompanying these is a VIP enclave and an unrestricted high-stakes area. Apart from these, Maharajah Casino houses a dedicated entertainment precinct, an upscale multi-cuisine dining venue, a sun-soaked deck, a bar, a cigar lounge, a barbecue spot, and even a space for children to play. Noteworthy are the live band recitals, dancers, DJs, and occasional celebrity showcases that further enhance the experience at this multifaceted establishment. The multifaceted aspects of this casino in Goa, India are much better than the online casinos.
Location: Captain Of Ports Jetty, Dayanand Bandodkar Marg, Patto Colony, Panaji, Goa 403001
Entry Fee: Rs 2500 on Monday to Thursday and Rs 3000 on Weekend
Timings: Open 24*7
4- Casino Pride
The casino is under the ownership of the Casino Pride Group, which has an extensive history of providing such services. They have received multiple awards and are renowned as one of the largest casino-associated groups globally. Casino Pride has been actively involved in this field for more than 14 years now, serving as a family-friendly entertainment destination. Families can visit with their children, benefiting from an extended range of entertainment options designed for younger visitors as well. The atmosphere is captivating, creating an immersive experience where you can enjoy your time with a sense of pride. This is definitely among the best casinos in Goa, India in 2023.
Location: River Mandovi, Captain of Ports Jetty, Panaji
Entry Fee: Rs 2000 on Monday to Thursday and Rs 2500 on Weekend
Timings: Open 24*7
5- Casino Palms
A luxurious real casino that earns you real money is exactly what you need in these times of recession. Situated within the La Calypso Hotel complex, the Palms Hotel in Goa boasts opulent accommodations, diverse dining experiences, a spa, and a poolside vantage point, all complementing the renowned casino on-site. Besides indulging in popular gambling activities, visitors can engage in a multitude of beachfront pursuits and a range of indoor and outdoor games. At Casino Palms, a variety of gambling choices are available, encompassing games like Roulette, Machine Poker, Blackjack, Flush, and Baccarat, in addition to slot machines, providing ample opportunities to test your fortune. This should be on your list of places to visit as it is a casino that you can't miss out on when in Goa.
Location: No. 7/129-B, Saunta Vadoo, Calangute-Baga Road, Bardez, Baga
Entry Fee: Rs 1000 on all days
Timings: Open 24*7
6- Majestic Paradise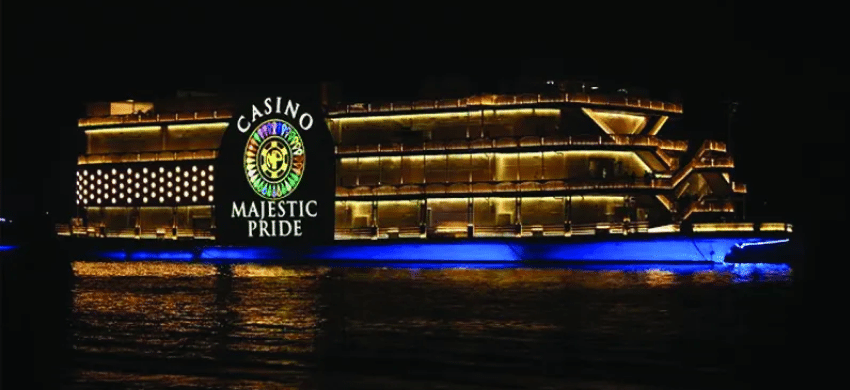 Situated on land in Neo Majestic, Majestic Paradise stands as one of Goa's grandest and most luxurious casinos. Spanning an expansive 5000 square feet, its lavish interiors are thoughtfully crafted to provide an endless gaming and pleasure experience. With cutting-edge digital gaming offerings including Digital Roulette stations, Roulette tables, Black Jack, baccarat, Mini Flush, and an innovative Robotic Arm Baccarat station, it delivers a unique gaming environment. The casino also features a range of electronic slot machines. For those seeking an unquenchable passion for gaming and a penchant for extraordinary gaming destinations, Majestic Paradise emerges as the ultimate choice in Goa. The advanced features of this casino makes it one of the best in Goa, India in 2023.
Location: Inside Neo Majestic, Porvorim, Bardez, Near Azad Bhavan, Panaji, Goa 403521
Entry Fee: Rs 1000 on all days
Timings: Open 24*7
7- Las Vegas Casino
Surely among the best upscale resort featuring a casino in Goa, India in 2023, the Las Vegas Casino perfectly embodies its name by offering an unparalleled gaming encounter that rivals the offerings of the renowned Sin City. Nestled within The Leela Hotel, it seamlessly merges the opulent offerings of the resort with diverse gaming choices, delectable cuisine, and entertainment. Furthermore, a plethora of leisure and amusement activities are at your disposal, encompassing indoor and outdoor sports, swimming facilities, and fitness areas.
Location: The Leela Goa Resort, Mobor, Cavelossim, Salcette
Entry Fee: Rs 2000 on Monday to Thursday and Rs 2500 on Weekend
Timings: Open 24*7
8- Dunes- The Casino
Envision the fusion of an indulgent beachfront getaway with an unforgettable casino escapade. Situated within the Zuri White Sands Resort, the Dunes casino in Goa offers an array of amenities, including six exquisite dining and bar venues. For those seeking a more daring gaming venture, the Dunes Casino awaits. While relatively smaller compared to certain other establishments, this Goa casino is no less sumptuous and exhilarating. Featuring an extensive selection of games, including Blackjack, Roulette, Poker, and Baccarat, it guarantees hours of unbroken engagement. As of 2023, this casino continues to be a prime destination for both opulent relaxation and thrilling gaming in Goa, India.
Location: The Zuri White Sands Resort & Casino, Pedda, Varca
Entry Fee: NA
Timings: 24*7
9- Deltin Jaqk
If you have not been to this casino in Goa, India in 2023 then you are yet to visit the best casino in India. Floating gracefully on the Mandovi River, the Deltin Jaqk presents itself as a lavish haven for gamblers. This ship-based casino elevates the experience with an impressive array of more than 300 gaming alternatives, accompanied by delectable dining and beverage selections, making it the epitome of casinos in Goa. At the Jaqk, specialized learning tables cater to newcomers eager to grasp the ropes, while simultaneously hosting world-class tournaments for seasoned experts. With entry restricted to those aged 21 and above on the casino floor, a dedicated children's area ensures the care of young visitors. To cap it off, an onboard ATM is available to tend to any eleventh-hour bets you might wish to place.
Location: Fisheries Dept. Building, Dayanand Bandodkar Road, Fisheries Jetty, Panaji
Entry Fee: Rs 2000 on Monday to Thursday and Rs 2500 on Weekend
Timings: 24*7
10- Deltin Caravela Casino
Last but not least on the list of best casinos in Goa, India in 2023 is Deltin Caravela Casino. Uniting the essence of a quintessential Goan retreat, the Deltin Caravela seamlessly merges a floatel experience with an expansive casino featuring an array of gaming possibilities. Within its opulent quarters lie an array of luxuriously appointed suites, with select ones even boasting their own exclusive private casino setups. Indulge in relaxation at the onboard spa, unwind with an evening in the on-deck Jacuzzi, or revel in the verdant surroundings and flowing waters of the Mandovi River. This Goa casino showcases approximately 80 gaming stations encompassing over 10 games, while proudly displaying 17 gaming tables. It presents an unparalleled sensation of partaking in a private game, coupled with the opulence of premium amenities and facilities. With offerings spanning Poker, Blackjack, Pontoon, Casino War, Baccarat, American Roulette, and Rummy, the Caravela assures players an electrifying and memorable gaming experience.
Location: Fisheries Jetty, Fisheries Department Building, (opposite Mandovi Hotel), D. Bandodkar Marg, Panjim
Entry Fee: Rs 3000 on Monday to Thursday and Rs 4000 on Weekend
Timings: Open 24*7